XLoveSplitter product

Download Trial version of XLoveSplitter
XLoveSplitter is a custom release of the VerySoft Webcamsplitter, one of the best video split software in the world. We consider Webcamsplitter one of the best software because it's compatible with almost all video devices, it use incredible low CPU resources, it can output different resolutions, for example you can send 320x240 or 640x480 to a website, 800x600 to another and so on, it can even handle different formats 4:3 and 16:9 in the same time. The team behind Webcamsplitter and Xlovesplitter constantly update the software to be in line with video chat industry trends.
XloveSplitter was designed to be as friendly as possible with the way Performers are using this type of software. XLoveSplitter doesn't change in any way the core functionality of Webcamsplitter, it only tries to enhance the user interface and also bring some new key features.
It works with almost all video devices out there: webcams, camcorders, firewire cards, analog capture cards, HDMI capture cards, USB camcorders etc - however make sure you test your video device with XLoveSplitter trial version before buying a license.

XLoveSplitter Widget is the main, completely NEW feature. Widget is basically a NEW USER INTERFACE that bring most important elements of Webcamsplitter in one window. The XLoveSplitter Widget, allow you to preview the Output Video exactly as it goes to Xlovecam (or any other cam site).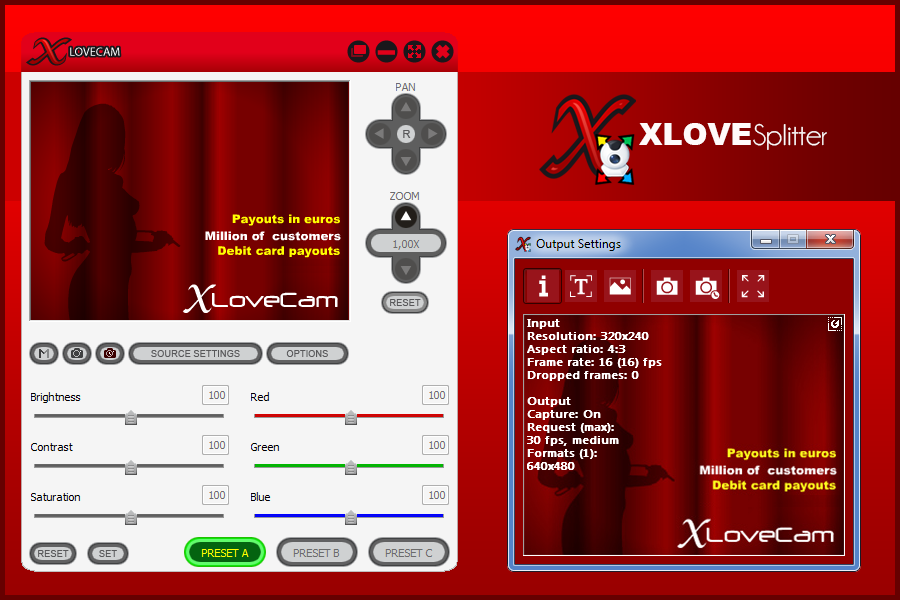 Here is a list of other actions that can be done directly from XLoveSplitter Widget:
Mirror feature - flip your video device image horizontally
Expand the video at full size
Take simple snapshots or with delay. Timer can be configured from Options window
Zoom and Pan/Tilt with controls, but Zoom can also be done with the mouse wheel directly on the video preview area, and Pan/Tilt with click and drag on the video
Color Controls directly on the widget and possibility to save up to 3 color presets, can be very useful for Studios or for Performers that broadcast from multiple locations.
Easy access of Source Settings and Options pages directly from the Widget
Always on Top option to be able to keep the Widget in front of other windows
Widget can be disabled from XLoveSplitter context menu
Limitations for Registration key distribution
Every Registration Key request (attempt) to the activation server is traced for every Activation code. The check is performed according to Verysoft EULA: if succeeded, the activation server replies with a new Registration Key and decreases number of available activations for given code; otherwise, the Registration Key is not generated and the activation server returns an error with some code and text message. The following two limitation are described in the EULA:
a short term limitation, 5 days (a. in specified time period one license cannot be used on two computers simultaneously straight after being purchased;
b. do not change computer until this time period ends from moment of previous successful Registration Key request);
long term limitation, 6 months (in specified time period more than two changes of computer cannot be performed for one purchased license).
Activation server returns error with code 402 when one of the rules is infringed. In any case new key can be received for FREE using specified Activation code when the limitation is over.
One license — one computer
Product license is unlimited in time, but limited by the computer it can be used on. Registration key is generated based on a computer identifier - Installation ID (Menu -> Help -> About, alphanumeric code in brackets after product version is the Installation ID). If the Installation ID does not change, the activation server will always return existing Registration key, which was generated earlier. Any change of Installation ID means change of computer and requires to obtain a new Registration key.
Regular price for XLoveSplitter is
9.9€
per license, you can use your Xlovecam payout to buy licenses for this software.
Check out our video tutorial to better understand how XLoveSplitter works

Download Trial version of XLoveSplitter (full functionality but with text over video - activation required)
We plan to add new features to XLoveSplitter near the future, your feedback will be very precious, don't hesitate to send us your ideas related to this product to
webmaster{at}xlovecam.com
---
© Xlovecam - Designed & Powered by 2006 - 2019