Extensive Model & Studio Guide
Xlovecam Guide last updated on: 06 June 2013
For better reading click here to disable page Style | Enable Page Style
Introduction
This Guide which is more like a Video Chat Book, was created by people with more than 10 years experience in video chat industry and in close cooperation with experienced Studios, Independent Models, Studios and Software Developers. Now you have the chance to learn in a decent amount of time, most of the so called "Secrets" of video chat activity, that for other people took many years to learn by themselves. For sure even very experienced models and studios will find extra useful information on this guide, remember that no matter how experienced you think you are, there are always new things you can learn to improve your results or to make your work easier.
It's a proven fact that being Self-sufficient, not eager to learn new things related to the activity, if you don't adapt to the industry trends and so on, sooner or later your results will be affected. Trust us, if you want to become or to continuously be a popular model with amazing and constant incomes for long period of time, you should start reading, learn and apply what is presented in this Guide. You won't be able to remember everything from a first read, repeat the lecture often, it will keep you on the right track, it will help you to remember things that you might have forgotten, it will give you new ideas and will put you in a better working MOOD.
For sure there are many other advices and working techniques, that this Guide doesn't cover yet, but the basics apply to any category and as a general idea, was design to help Models and Studios to better understand how this activity should be treated, to help you realize that Video Chat activity is ALIVE AND KICKING LIKE NEVER BEFORE.
---
How can I maximize my revenues on Xlovecam?
Every once in a while you may asked yourself this question "How can I earn more money?", while some of you has found the proper answers, there are still many out there trying to figure out the "secrets" of being a successful cam model. Actually there is no such thing as "secrets"... at least not in the way many of you imagine it. Nowadays all the details required to increase your results are there, right in front of your eyes, even so, many are choosing to ignore it or are being afraid to try making changes or simply they don't know how to use these details for their own benefit.
Xlovecam models guide it's all about helping models to find answers and solutions in order to increase their results. No matter if you are a new model or very experienced one we strongly recommend to read these guidelines thoroughly, everyone can maximize their profits regardless their level of experience.
There are several important things that need to be discussed; we will add all these elements in a list and then we'll try explaining each one as detailed as possible.
▲ Top
---
About Xlovecam system
Xlovecam online venture started in 2006 and the website has been constantly growing ever since, currently being one of the TOP Adult Cam Sites in the WORLD. We pay Models&Studios in Euros, always in time, right after each working period. We are one of the few cam sites that never decreased Models&Sdudios Commission and even added features that allow everyone to increase their revenues up to 70% from their own shows and with extra 20% from other Models shows (check the member referral system). With any decision that we take related to the adult video chat platform we strive to keep everyone HAPPY. We never ignore the global FEEDBACK of Models, Studios, Members & Affiliates, however from our experiences, some of our decisions are often misinterpreted. We realize that a feature or another can't make every Model and Studio happy, but we at Management level, have to keep a balance, adapt to the industry trends in order to keep the website growing. Creating a perfect cam site only from Models&Studios point of view, without taking in consideration Customers side, Affiliates, Legal Aspects, Billing Aspects, Technology, Industry trends, Profit etc, we will probably end up with a very quiet cam site, boring for customers, therefore the growth will be close to impossible no matter how much Traffic we push. At that point Models will not CARE anymore, regardless of the "perfection" in features they will leave that platform "I like the website, but wind is blowing in my private chat, no customers". That's why is very important to interpret objectively each change we do, to put yourself a bit in our place, customers place etc.. to see the things also trough their eyes not only yours. Our Guide will not only teach you how to work in optimal conditions but it also explain the purpose of each important feature that we provide, and how that feature should be used for maximum results. Keep yourself OPEN MINDED even if you think you are an very experienced Model and Studio, it is a known fact that FALSE ASSUMPTIONS can greatly affect your results. Being able to see the Industry objectively, to properly analyze each situation, it can make the difference between Models that are earning 500Euros per month and those earning 5000Euros or more each month. Every Model can highly improve their current results, but it depends 100% on the Model decisions and everything starts with BELEIVING that is possible, to have the WILL POWER to make steps forward. Nowadays information is everywhere, things are 100% CLEAR from our point of view EACH MODEL CAN INCREASE THEIR RESULTS if they start to OPEN THEIR EYES. Luck has nothing to do with this Activity, models being very popular aren't "Lucky" as the others are often thinking, they are talented, smart, hard working models, that understood properly what this Activity is all about, but even a popular model can earn more, if she keeps herself Informed and Open Minded - SKY IS THE LIMIT.
▲ Top
---
Important Xlovecam Features
Order of these features is not important, each of it has an important role either for boosting your results with Xlovecam or to make things easier for your activity.
High Quality Software - with the latest software (Soft New) you have 3 different ways to go online, Basic, Flux Manager and H264, Flux Manager offer the the best possible quality if your computer, webcam and internet connection are good enough. This because High Quality needs more PC resources. Next in line is H264, it can offer very good quality as well, but not as good as flux manager (adobe media encoder), H264 usually takes less resources in comparison with Flux Manager (depending on streaming settings as well). Basic is to be used if you are out of choices due to old computer, slow internet connection etc.
Profile Page - use it wisely, keep your profile up to date with fresh pictures, teaser videos and VIP videos, complete your profile with accurate data, try to fill all languages that you speak (not only one), use all the space available, rich profile page will get you more customers in your private show.
Rating system - All Xlovecam members can RATE you after a private show, with 1 to 5 stars, and they can also leave a comment that will appear in your PROFILE PAGE, so other visitors and customers can see these comments (also your Rating). The more you stay online constantly, day by day etc, the more private shows you will have, your Xlovecam Rating will increase, you'll become popular and therefore you will generate more and more money with the same effort (same time spent online).
Loves - a great recent feature that will allow all models (including very NEW Models) to increase popularity at any given time based on her free chat performance. Customers and visitors can give you their Love, each Love is 1 point, also all visitors/customers can choose to arrange model list by the number of LOVES, so the more loves you have the more popular you will be at a given time. Loves system is restarted periodically to avoid cheats and to give real chances to New Models as well to get a better position in the models list (arranged by Loves), and a better position means more traffic, more private shows.
Bonus - Each Xlovecam registered member that have credits in his account can give Bonus in Free Chat area, the amount of Bonus can vary between 1 and 10 Euros, when you receive a Bonus you are allowed to show your breasts (to be Topless and nothing else) for maximum 3 minutes and is completely your choice, but a as general rule, keep your promise, saying to the customer that you will be Topless for Bonus but not keeping the promise, will get you a penalization from Support Team. If you don't want to show your breasts, is COMPLETELY fine, just make it clear in Free chat and Profile page as well. More details you can find in the FAQ page.
Favorites - all registered customers can add models to their Favorites, so they can easily find them next time. Favorites Models appear in a separate page in the Customer account and they can easily see which of their Favorite Models are online. Teach your customers to add you to their Favorites, this way they may find you much easier next time. All they have to do is to click a Button that is available in the Live Chat page on their side - "Favourites".
Events - We constantly organize Events on Xlovecam. Topless events, Thematic Events, Panty Off Events etc. Participating to Xlovecam Events is OPTIONAL, but we strongly recommend to participate as often as possible because the Events are a great way to increase your popularity and number of private shows. Many models believe that if they show something for free, the customers won't come in private shows, IT'S 100% FALSE ASSUMPTION, in fact is exactly opposite. Offering some gratuity from time to time, you'll get you more customers, same like in the real world. From the stats, during Xlovecam Events there is a considarable increase in traffic and customers online in comparison with the normal days.
Cam2Cam and Voice2Voice - Each Xlovecam customer while in private show with you, can send his Webcam to you (if they have one) and/or Voice (via microphone if the customer has one). These features increase a lot the level of interactivity. Let your customers know about this feature, ask them if they can activate thier Webcam and Microphone for you, but don't be too pushy in the case they don't want it (some customers are very shy, or afraid to send their image over web, especially on an adult cam sites). From our statistics and experience, with this level of interactivity, private shows are much longer and both customer and model have more fun. Note: Keep in mind that only first customer that enter in your private show can send his voice, secondary ones can only send their webcam.
VIP Area - it can be a great tool for you to keep your customers happy, especially regular customers, and if you manage to do that, it will also mean a good amount of extra MONEY that you can generate even when OFFLINE. But all these are possible only if you use it properly. You should constantly update your vip area with fresh, unique videos and pictures (good quality pictures and videos), you should invite your regular customers to join it if they want to, you could speak about your VIP area in the profile page, you can announce your members each time you update your VIP area. This way in time you can have many customers paying a fix monthly membership to be able to view your VIP area. Imagine having in time around 200 customers paying 10Euros per month, each month, to view your VIP area (10Euros as an example because you are the one that is choosing the price for VIP area within some price limits). 200x10=2000Euros per month only from VIP AREA (around 1000Euros monthly your share), this way you can be less stressed while taking a small vacation, or when you are sick and so on, money can still keep flowing even after you no longer work as a video chat model (as long as you keep your VIP area active). Try to think logically - if you put in VIP area regular pictures that you use also in profile page, if you don't update constantly your VIP area with fresh content, is normal that customers won't pay the membership for longer periods of time. You will do the same in their place. If you don't communicate with your customers about VIP AREA, if you don't keep them updated about it, chances to get many customers there are not very high, because this type of promotion is better done at model to customer level not at Cam site to customer level.
Price per minute - as general rule (advice) the ideal Price per minute is the one that will allow you to stay in private show as much as possible. There is not an universal recipe for the best price to be used, this really depends on each model, in general the more popular you are the higher the price can be, but even very popular models can have periods when it simply doesn't work with a high price, so they are forced to decrease, to make like a "discount" to attract the customers back. Being greedy and setting the price too high, while your competition (other models) do have an optimal price per minute, will never help you to become popular. You have to be smart and analyze your situation objectively. Why spending 90% of your time in Free chat and only 10% in Private Chat with a higher price, when you can spend more than 50% of your online hours in the Private Chat with a lower price, and generate a lot more commissions. Of course price per minute alone is not the only factor, it depends also on your skills as Model, the quality you provide, the services you provide and so on. As another advice, DON'T play with the price often, don't change it 10 times per day, CUSTOMERS HATE THAT, and sooner or later they will AVOID YOU. When you test a new price, always test it for a longer period of time - 2 weeks to 1 month - if you see that with the new price, you spend a lot of time in free chat means that IS NOT AN OPTIMAL price per minute. On Xlovecam you are able to set the price per minute yourself (within some limits) excepting for some countries where you can only change the price by contacting Support Team.
Member referral - an Xlovecam feature that has the power to boost your sales, both ONLINE and OFFLINE commissions. For example if you now have 45-50% share, referring a new member to Xlovecam system, via the referral links that are provided in your model panel, can get you an extra 20% from all the money spent with you, so you can get 65%-70% from these customers + and extra 20% from all private shows that he spend with other Xlovecam models. In conclusion if the customer spend 1000 credits with other Xlovecam models, you get 20% from those money as well. Keep in mind that we have advanced solutions to detect if the referred new members are really NEW, if they previously had an Xlovecam account, your commission won't be granted. Also if the NEW customer don't access Xlovecam via the referrer url that we provide, it's impossible for us to detect who brought that customer on Xlovecam. That url has a code that will indicate to us (to the automatic system) which model referred that customer. The only GOOD way to take long term benefits from this feature is by doing SELF-PROMOTION outside CAM SITES platforms, creating personal pages, getting involved in social networks, promoting these pages in various places like directories, forums, tube sites (including non-adult tube sites, as long as you don't break their rules, it should be fine, even on youtube you can find models, promoting themselves, creating tehnical tutorials for customers for example or simply talking about various aspects of their activity and so on). Attempting to migrate the customers from a site to another is the shortest way to get BANNED, not only from Xlovecam but also from the other cam sites, sooner or later it will happen, is the worst choice you can take. In preset, everyone can promote themselves, there are countless of easy to use website builder tools, page builders, provided by all social popular websites, tube sites and so on, is easy to learn in time everything, there are text and videos tutorials for any possible task you want to do, AS LONG AS YOU WANT TO LEARN. Seeing this as a long term activity, will bring you more and more money and popularity over time. Building such popularity can get you money for many years even after you're no longer performing in this activity.
XBlog - a tool we provide exactly for the purpose we spoke above, for self-promotion, you can build fast your own website and you can promote it on the web. The blog won't bring you any money if you don't promote it outside XLOVECAM system. You are not allowed to speak about your blog inside Xlovecam system, also we don't put links to your blog on Xlovecam... therefore the only way to get people to your BLOG is to create nice content for it and to start promote it. Even without promotion, it will be indexed by google, and in time (after some months, even 1 year), google and other search engines will send some traffic to your blog. That traffic will convert in MONEY if some of the visitors will become CUSTOMERS. Keep these things in mind when creating your blog, don't create pages/journal messaging where you address yourself to some Members that they don't exist yet, speak more about you, about your hobbies, about what you like, about your opinions on various subjects even if those subjects are not related to video chat activity. You have thousands if not hundreds of thousands of successful blogs examples just by searching on google, analyzing popular blogs can give you inspiration and ideas about what it takes to be a good blogger, apply similar principles for your activity, your Xlovecam blog and great things will happen in time (it can take months, even years for a blog/website to become popular, but once it does money will flow like never before).
Internal Messages - customers can write internal emails to any Xlovecam Model. Model can also reply to the customer email. The more customers writing messages to you, the better. Imagine having a couple of hundreds of different customers in the Messaging system, each time you go online, you can inform your regular customers. Each time you update your VIP AREA you can let them know about it, each time you are participating to an EVENT, each time you offer new SERVICES (new and better webcam, higher quality, a new toy, a new type of SHOW), same also when you change something on your look (new outfit, new makeup, new hair color etc etc etc)... keeping your customers informed will determine them to come more often in private show with you and also to spend more time.
Translator - a powerful feature that is available in the SOFT NEW all versions (Basic, Flux Manager and H264). Used properly, it can help you a lot to go over the language barrier with a visitor or another. It can be also used to surprise a customer, to tell him Welcome for example in his native language (because you can see the country of each visitor). Like any translator, is not perfect, but used properly, visitors will be able to understand you. Also it can be used to translate specific words that visitors are typing and you don't understand. Read more about Language skills here
Webcam Preview - a more recent feature, that basically allow you to see your live cam like a visitor/customer. Keep in mind, that is always good to double check with visitors and customers, to have a confirmation. There can be situation when "Webcam Preview" it doesn't look great on your side (for ex if your computer is already in 80% cpu usage, it will probably go in 100% when you open Webcam Preview - in this case is normal to see a degradation in quality and frame rate on the website, but it can be back to normal after you close the Webcam Preview window). There are also situations when specific versions of flash player or browsers can cause problems. Try to test the software with various browsers: IE, FireFox, Chrome etc and see what is best for you in terms of resources usage.
Forced Private Show - this option will allow you to go in Forced Private Session (Show), visitors and customers will no longer see your live cam, you basically appear in Private Show for them. It will be useful when you have to do various things that aren't compatible with the Free Chat Rules, when you have to leave the webcam for some minutes, when you are in private show on another cam site, there is no longer needed to close Xlovecam, so more chances to have private shows on both sites etc.
Stay in private Show after last customer - if this option is Enabled from your Model control panel - Private Profile page, our software won't close anymore after each private show, instead you will be kept in private show for 2 more minutes, to give you time to get dressed and also to give time to Customer to come back in case he was disconnected from various reasons. There are also buttons to go back in Free Chat or Forced Private show (depending on the mode where the private show started - from Free Chat or Forced Private mode). It is a known fact that in many situations a customer might want to come back if he was disconnected by the server or by his own mistake, but if the model don't go back online fast, he might leave the website or simply visit another model. There are also situations when other customers are waiting their turn to get in a private show with you, because maybe they want to be alone in the show, to get your full attention, but if you disconnect after each private show and take long breaks, your chances to have fluid privates one after another are decreasing a lot. One of the best working procedure is to go back in Free Chat directly after Private Show and wait there a bit maybe others want to join, even if you are not fully dressed, you can for example to stay with face in the camera, tell to your visitors that you are still naked after a great private show etc, tease them, if after 10 minutes there isn't any new private show, you can put your clothes back and return to your regular body position for Free Chat.
Commission details in the software - in the SOFT NEW all versions you can see commissions details in real time during private show sessions, also daily total is generated automatically. This feature was designed to save you time, to have the info directly in your eyes, therefore there is no longer needed to check the commissions page so often.
Member notes and details in the software - CRM window panel in the SOFT NEW all versions - it will show advanced details about each customer that come to your free chat, as well as recent history of your private shows. Clicking on a Customer name directly in the Visitors list, it will bring the CRM window on the screen, and you will see there several important details about the customer, if he was before in private show, if he gave you bonus, if he joined your VIP area, how much money he spent with you over time and you can also add Notes about a customer or another to easy remember various things about him next time that customer will visit you.
Block country option - from your Private Profile page you can block as many Countries as you like, keep in mind that visitors and Customers from countries that are blocked will no longer be able to access your free chat or private chat area, see your bio page etc. Use this feature with caution and make sure you don't block important countries by mistake.
XLC Card payment method - beside Bank Transfer we also offer an alternative payment method that is similar with Payoneer, Paxum etc with the only difference that XLC Card is managed by our company, therefore your money are 100% SAFE (always remember Epassporte story, if you don't know about it, search on google). XLC card is not available to all the Models&Studios from the START, if XLC CARD was not an available option when you created your Xlovecam model account, you can still get it by request after few months of constant activity on the website. You can contact us for more details.
24/7 Live Support and Teamviewer Support - we offer 24/7 Live Support and also Teamviewer Support (when possible) for situations when is not easy to put a diagnostic on various technical problems. Keep in mind that Support Team have to handle many Customers and Models that request for help each day. Read here more details about Support Team.
Xlovecam NEWS (Administrator Messages) - each time we do important changes to Xlovecam system, or if we want to transmit an important message, we let you KNOW via Xlovecam NEWS system; just check the News section from the left side of your Model panel MAIN PAGE. We noticed over time that there are many Models even Studios, that don't read the NEWS (Administrator Messages), they were not familiar with basic and very important features that have been added over time. If you are one of these Models&Studios you should always REMEMBER that SUPERFICIALLITY will never help you to ACHIVE great results, that's valid for any activity. Start reading Xlovecam news, even the entire history of NEWS, to keep you updated about changes in the system and to get more familiar with what we have to OFFER.
Xlovecam RULES - you find the RULES right after you login to your Model Panel, at the bottom of the PAGE, also the Rules are listed in the Model Registration form, so theoretically any active Xlovecam Model&Studio should be familiar with these RULES even prior to become a model or studio. In Conclusion next time you get warned or penalized by Support Team, remember that is your obligation to READ and UNDERSTAND these internal RULES. Not knowing the rules won't absolve you from getting a penalization or more. If you break important RULES you can even be BANNED forever from the system, so to avoid these kind of issues, we strongly recommend to treat these Rules seriously.
▲ Top
---
"Soft New" functionality explained in detail
Keep in mind that this is a presentation of "Soft New" from the date when Xlovecam Guide was last updated (February 2013). As we constantly work on Xlovecam, option icons might change, new feature can be added and so on, what's more important is to always keep yourself up to date with the latest Xlovecam changes, we always announce when Software has important updated.
▲ Top
---
Using the latest model software - "SOFT NEW" to broadcast with HIGH QUALITY
Important Note: High Quality means resolutions between 640x480 and less than 1280x720, everything that is in this range is High Quality, every resolution higher than 1280x720 (including 1280x720) is HD resolution. So, for example, 640x480 and 800x600 are HIGH QUALITY (not HD), some popular cam sites use the term HD for 800x600, but this is more like a marketing line, not a true HD resolution. Video chat industry still needs some time, before HD resolutions will become standard for broadcasting.
Technically speaking many Models and Studios are able to broadcast in full HD already, but is important to keep in mind also the Customers side, many of them might not have fast internet connection or powerful computers, so things has to be balanced in terms of quality as well, to be sure that Majority of customers are able to watch your Live Stream in optimal conditions. Xlovecam is HD ready from long time ago, if you want you can test HD resolutions at 20fps or more, 3-4mbs bandwidth, if more than 80% of the visitors can watch you properly, it should be fine, it can help to boost your results, as there are customers looking for super quality.
Minimum tehnical requirements for High Quality (starts from 640x480 20fps 950kbs) - if you broadcast only on XLOVECAM
Operating System: Windows XP, Windows Vista, Windows 7 or Windows 8 both 32bit or 64bit versions
Note: browser versions of the software, not Flux Manager, should work also on Mac OS, Linux or any operating system that has flash player support and as long you can find drivers for your video device
CPU: Dual Core processor running at 2.2 GHz or higher (Intel or AMD)
2 GB RAM or more
Internet Speed: 1.5 Mbps upload/download speed on servers outside of your country (not local servers). Perform the speed tests using speedtest.net website and choose a server from Amsterdam (Holland)
No splitter software unless is really necessary, splitter will use an extra 10% to 50% or more CPU depending on resolution, fps and your custom settings on the splitter (if usage of such software is a must - we recommend VerySoft Webcamsplitter or Webcamsplitter Pro)
Advice: Try to get a better computer when possible, High Quality has become an important aspect of this activity, not being able to provide high quality due to slow computer, old technology etc will affect your sales more and more during next months/years.
Optimal tehnical requirements for broadcasting in Very High Quality (starts from 800x600 20fps 1200kbs) on multiple cam sites (max 3 in the same time)
Operating System: Windows 7 or Windows 8 both 32bit or 64bit versions (Xp and Vista should work fine as well, but to get the most out of a powerful computer is better to use Windows 7 or 8)
Note: browser versions of the software, not Flux Manager, should work also on Mac OS, Linux or any operating system that has flash player support and as long you can find drivers for your video device
CPU: Latests QUAD CORE (or more) processors running at 3 GHz or higher (Intel I7, AMD FX series 4 or 6 cores, AMD A10 APU series etc)
8 GB RAM or more
Internet Speed: 5 Mbps upload/download speed on servers outside of your country (not local servers). In our case, test speed using speedtest.net website and choose a server from Amsterdam (Holland)
Use a splitter software that don't use a lot of CPU resources like VerySoft Webcamsplitter or Webcamsplitter Pro
Advice: Always keep an eye on your computer performance, check your CPU load and internet speed often. If your CPU load is close to 100% or your internet speed can't handle all the websites, take action, don't stay like that online because you will provide poor quality on all cam sites and your sales will be affected. Check our technical instructions from this guide in order to learn how to check and resolve various problems with the computer and internet.
In present the customers are looking also for QUALITY, if you don't provide proper quality, your chances to get a good number of private shows daily are decreased a lot.
Even if you generate a lot of money broadcasting with poor quality, is still highly recommended to switch to better quality, your customers will be happy, they will stay more in private shows, you will attract new customers and at the end you will notice that you can do even more money with the same effort. With the latest Xlovecam software, you have more settings available that ensure you can find better quality settings even with an older computer or slower internet connection.
HIGH QUALITY starts from 640x480 15fps or 20fps 800kbs to 1000kbs bandwidth.
Very High Quality starts from 800x600 15fps or 20fps 1200kbs to 1500kbs bandwidth.
To be able to work at these resolutions, frame rates, bandwidth, you need as minimum requirement at least a powerful DUAL CORE computer and 2GB RAM memory, and this computer can only hold properly one website with high quality. The CPU load will be around 60% to 80%, if the CPU goes over 80% load, your computer is too slow for HIGH QUALITY or you have problems with it. Also the internet upload speed recommended should be around 2mbs, our software will not use that much, even 1mbs can be fine (depending also on your custom settings), but as a general rule is better to have some reserved, not used bandwidth, instead of using it at maximum load.
A common mistake of models, is the attempt to broadcast on multiple site in high quality with computers and internet speeds that aren't optimal, they load their CPU too much (close to 100% load), resulting a slow video and very bad quality on all the websites they work.
If broadcasting on multiple cam sites is a must, than invest in a powerful computer and good internet, basically to be able to work on 3 websites with 800x600 15-20fps 1200kbs, you need a powerful computer with minimum QUAD CORE processor Intel I7 or AMD FX 4 or 6 cores series or AMD A10 APU series etc... however as Intel and AMD constantly bring new products on the market, we prefer not to give any full specifications, but as a general rule when you are looking to buy a new computer, buy one that is good for gaming, being able to run without problems even the latest games available. You don't need to buy the most expensive CPU available, but buy one that is above middle range. Research a bit before buying. At the end of 2012 the price for a good Intel desktop PC computer (without monitor) is around 800Euro, an Intel I7 3770 3.4 Ghz, 8GB RAM DDR3, 1GB Video Card, 1TB HDD etc, similar performance from AMD can be bought under 600Euro. In Video Chat industry you can recover this investment in less than 2 weeks, if you work properly.
As for the internet upload speed for 3 sites running in 800x600 15-20fps 1200kbs, recommended speed is around 5mbs upload, even if you don't need more than 3.6mbs, as we said above, is always good to have a bit more extra bandwidth.
▲ Top
---
About working on multiple sites
As you may know we don't ask for exclusivity on Xlovecam, you can work on as many cam sites you want (but not in the same time). According to Xlovecam statistics, models with the best results are those working exclusively on Xlovecam, followed closely by models streaming few hours only on Xlovecam and then working on other cam sites. Obviously at the end of the list are models that believe rules are made to be broken, working on multiple websites in the same time and even worse - multiple sites with free chat. You might ask: "Why is so wrong to work on multiple sites at once, I can make more money like this, is not so?" - Well at a first look it seems so but in reality most of the models working on multiple good sites in the same time are actually loosing money and we further explain why:
Your attention is divided, no matter how fast you type and how experienced you are, you can't provide the same performance on all cam sites you are working on, especially if the other sites are featuring also a free chat area.
Your internet bandwidth is divided between sites - most of the cam sites has introduce high quality performer software - including us - you know we have Xlovecam Flux Manager or H264 alternative for High Quality and we strongly recommend all models to use the High Quality feature. Using latest streaming applications will help you increase your sales, but using all in the same time will most probably overload your internet bandwidth and your pc resources... causing slow or bad quality video and other various problems - all these will surely affect your overall sales.
Every time you are in private show on another cam site, you have to switch Xlovecam to Forced Private Mode or close the software, therefore you might interrupt a chain of events, an open discussion in free chat, maybe a customer wants to join your private area right in that moment etc. Swiching or disconnecting the software all the time not only it will affect your sales but is also affecting your image in the long run (some potential customers will avoid your chat room, simply because you close the "doors" in their face too often).
So if you are serious about making real good money, we strongly recommend taking in consideration our advices related to "multiple sites in the same time".
If you choose to continue working on several cam sites in the same time - at least do it in a smart way - make sure you have enough internet bandwidth and a good computer to run multiple sites without loosing quality and video frames. If you don't trust our words, no one stop you to make your own tests, for example lets say you work on 2 popular cam sites in the same time, but due to your internet speed, old webcam, older computer you are not able to provide High Quality on both cam sites. What you can do during this test period is to work at one site at a time, let's say 4 hours on Xlovecam with High Quality and 4 hours on the other cam site with High Quality. After these 2 weeks compare the results and see the differences, in most of the cases models will notice an increase in sales on both sites, so you will understand than that a faster internet line or a new powerful computer that ensure optimal condition to be able to keep both sites at High Quality in the same time, it will help you to generate more MONEY.
▲ Top
---
About the QUALITY of live feed (video stream)
A clear crystal image and a fast video stream are the elements that compose a high quality live feed. As you probably noticed we place models providing High Quality video in the top of Xlovecam online models list (for High Quality sorting method). If you want more customers in your private area, you should definitively try to improve the quality of your live video, also your current customers will be happy for that and will spend more private time with you.
Your Internet Connection is responsible for the video flow - in order to broadcast a faster video - more then 15 frames per second, Xlovecam Flux Manager require a minimum of 512kbs upload bandwidth. Keep this in mind - Flux Manager is capable to auto configure depending on your current internet bandwidth, meaning that you'll still be able to connect to Xlovecam even if you have a slow connection (lets say 256kbs), but the quality of image and video speed is reduced considerable therefore it can't be tagged as HIGH QUALITY. If you work on multiple sites at one time, most probably your bandwidth is already overloaded, if so, there is not enough upload for our software to run in optimum conditions for HIGH QUALITY. In order to check your internet speed in connection with Xlovecam use SpeedTest.net on an Amsterdam server, this website will test internet speed between your computer and a server close to our servers location, if results are more then 512kbs upload/download then your good to go, if not - you should consider buying more bandwidth, changing your internet provider, reduce the number of websites you are connected on. Keep in mind that 512kbs is minimum for acceptable Quality, the more bandwidth you can provide, the better it is. We strongly recommend not ignoring your internet connection; make sure is fast and stable even if you have to pay some extra bucks for it, what you could get in return will worth it.
Camera and accessories - are responsible for IMAGE QUALITY - With proper lighting and a good HD webcam, Camcorder or HD Camcorder with remote control you can do magic in terms of IMAGE QUALITY, if you add a PAN-TILT and a TRIPOD to this combination you open the doors to a whole new level of performance and comfort. Instead of wasting a lot of time positioning and repositioning your old webcam, you just push few buttons for zoom or positioning camera, so that your work will become easier this way and you'll be able to offer a whole new experience to your visitors and customers.
▲ Top
---
About HD Webcams, Camcorders and HD Camcorders
HD WEBCAMS
We said in the past that an Webcam can't compete with a camcorder connected via analog capture card or analog tv tunner, well that was true for the past, but with the latest HD Webcams from Logitech, the situation changes a bit. An older camcorder (not HD camcorder) it has maximum resolution around 720x576 (that's max), while latest Logitech HD Webcams have up to 1920x1080 at 30fps or more, superb image quality in good lighting condition and are much easier to setup in comparison with a classic or HD camcorder.
Day by day customers demands in terms of quality gets higher, if in the past a 320x240 resolution was enough, currently even 640x480 is getting old, 800x600 is becoming normality, and sooner or later the next step will be full HD resolutions, which starts from 1280x720. As a regular camcorder doesn't have more than 720x576, choosing a good quality HD webcam is the optimal choice to be able to broadcast at resolutions higher than 640x480.
The only aspect where a camcorder still does a better job in comparison with an HD Webcam is the ZOOM functionality, and that is normal as the camcorders have optical zoom (from lens) so the quality remains the same at any zoom level, while the current webcams have only digital zoom, meaning that for ZOOM, the original image is increased, so image quality gets decreased with each zoom step. However latest Logitech HD Webcams are doing a great job for the first 5x zoom steps and in most of the cases 5x zoom is more than necessary.
When it comes to choose an webcam, don't complicate yourself, pick one of the latest Logitech HD WebCam, BCC950 and C920 are the best webcams at the time this guide was updated (February 2013). Don't waste your money on very low budget webcams as most probably it won't provide the required quality. Microsoft and Creative produce also good webcams, but at this time their top webcam product is not as good as the top Logitech product.
▲ Top
---
Best and most popular Logitech HD Webcams:
Logitech BCC950 Conference Webcam - is their latest HD Webcam product, it comes with integrated motorized pan-tilt (you can move the webcam up/down/left/right) and a remote control from where you can control the pan-tilt + 5x zoom + audio level or turning off audio. BCC950 was released around September 2012 at the price of 250$ on Logitech website, but it can go up to 400$ depending on country, a bit expensive but worth every cent.
Logitech C920 - also a very good hd webcam, the price range between 60 and 150$ (depending on country, shop etc) it doesn't have a pan-tilt or remote control, image quality is superb, it can be mounted on a tripod, and you can buy a pan-tilt device separately if you want.
Logitech C910 - is no longer produced, was replaced by C920, but if you have already a C910 is a good choice, just make ensure it has enough light.
Logitech Pro 9000 - was for years a very good webcam, but is old and no longer produced also it doesn't compare in quality with the recent HD webcams from Logitech (BCC950, C920 and C910). If you have a very low budget it can be good for a start, if you find a cheap one, second-hand.
Logitech Quick Orbit AF - still a very good hd webcam with integrated pan-tilt, but is no longer produced and it doesn't have a remote control like BCC950, so the pan tilt and the other functions can only be controlled with the mouse. If you have a low budget it can be good for a start, if you find a cheap one, second-hand.
If you are going to buy a NEW WEBCAM, the choices are simple, if you have the money don't hesitate buying BCC950, remember that even if is a webcam, if you want clear crystal image you need proper lighting in the working room, also BCC950 doesn't come with a software it's installed automatically with default windows drivers, but we recommend to install latest drivers from BCC950 and also if necesarry the C920 software which will recognize also the BCC950 device and you will have same settings available (also easier to adjust the webcam with the Logitech Software). If you have low budget, than choose Logitech C920 and after you start to generate good money, you can get BCC950 or better (if new models will be released in the meantime).
▲ Top
---
Top 10 HD Webcams 2012-2013 (other brands included)
Here you can find reviews about TOP HD webcams of 2012-2013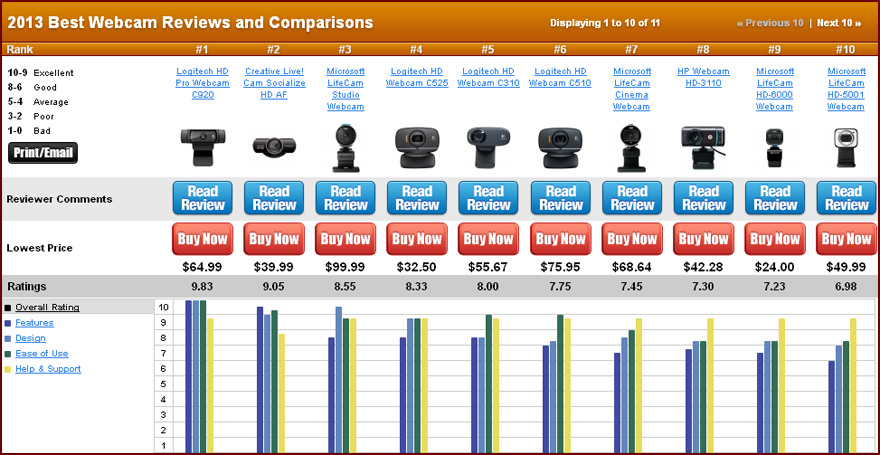 ▲ Top
---
Recommended settings procedure for all Logitech HD Webcams
This recommended procedure for adjusting your webcam settings is valid for all Logitech HD Webcams using latest Logitech Software. Same principles described here will apply also to other webcams from different manufacturers, only that the software and options names will be different.
EVERYTHING STARTS WITH HAVING PROPER LIGHTING CONDITIONS. WITHOUT ENOUGHT LIGHT YOUR WEBCAM WON'T BE ABLE TO DELIVER MAXIMUM QUALITY.
If you have optimal light in the working room the exposure and gain level, on auto mode, won't go over 60%, you can use the auto mode to test this, move the webcam like you do when you are online, move yourself in front of webcam etc, keep the settings window on the screen, if while you move the exposure and gain go over 60% it means that on the website your webcam frame rate and quality will be reduced, this is why is recommended to have good lighting condition even if the webcam can apparently do a good job with low light. With low light, the logitech software might be able to make the image looking good on your screen, but if you move very slow on the cam site, the customers will think you have technical problems and most of them will avoid your private show.
▲ Top
---
Usage of splitter software
When working on a single cam site, a splitter software is not necessary needed to broadcast, also some computer systems come with built in splitter driver that will allow you to use the webcam in multiple programs. Even so, there are cases when your webcam or other video device is not detected properly, or even if it does the functionality is problematic.. for such cases a splitter software can RESOLVE the problem. There are several choices out there for a splitter software like: Splitcamera, Webcamsplitter and Webcamsplitter Pro, E2eSoft Vcam, Xsplit, DvDriver, WebcamMax, SuperWebcam (closed project), Camsplitter, Camzoomer, ManyCam etc.
We tested all, and one of the best, at the time when this guide was update is WEBCAMSPLITTER (both simple and PRO versions are fine) - Pro version can be opened multiple times and it has picture of picture, most of the models won't need these features so Webcamsplitter simple version will be ok.
The program is not free, the cost is 20$ or so, it has a trial version that you can test. Also the trial version is good to check the FPS that your HD webcam is sending out, because the Logitech software do not show how many frames per second is sent by the webcam. Why the Webcamsplitter is one of the best? Because it doesn't use as much CPU resources, is light weight, compatible with all cam sites software, it has advanced settings that allow you to manipulate resolutions, video image and other various things, and it can be used with any type of device (hd webcam, camcorder connected via firewire, hd camcorder connected via hd capture card and hdmi, camcorder connected via analag capture card, you can also use it to take snapshots etc.
Webcamsplitter has also color correction functions and digital Zoom, but when it comes to Logitech Hd Webcams we don't recommend using Webcamsplitter color settings or zoom, because you can adjust everything you want from the Logitech Advanced Settings as presented in this guide. Adding even more color settings it will use more CPU resources as well as in some situations will decrease image quality.
If you have a powerful computer and you don't need to change video format (16:9 to 4:3) or resolution transformation, Splitcamera (which is free) or other splitter software are fine to use - just make sure you check your online video using our "Webcam Preview" feature (to see your video image exactly like a customer or visitor) to be sure the quality is similar with what you see on your local computer. Some splitter software might decrease a lot the output quality or cause noise/distortions, reduced frame rate and even big delays in some cases.
▲ Top
---
Webcamsplitter recommended settings for HD WEBCAMS
▲ Top
---
How to get the most of your OLD CAMCORDER (mini-dv, hi-8 etc) - non HD Camcorders
To get the best quality out of your video camera you have to connect it via Firewire. In the previous version of the Xguide we said that Firewire is not recommended, this was because it require more cpu usage and there weren't any good options to adjust colors properly. In present if you have a good computer (quad core), you can capture the video from camcorder via firewire at maximum available resolution 720x576 usually (or 720x480), and after from a splitter software like Webcamsplitter or Webcamsplitter Pro, image can be manipulated either decreased to 640x480 or increased to 800x600 (with small loss in quality). To get the maximum quality make sure you properly adjust Exposure and White Balance directly from your camcorder + you can add saturation, contrast and brightness from the Webcamsplitter software. Also don't forget that is important to have optimal light in your working room.
Solutions to connect your Camcorder (non HD) with Firewire cable
Webcamsplitter (Webcamsplitter Pro) settings instructions when camcorder is connected via FIREWIRE
List of devices you'll need for this kind of setup:
Camcorder with zoom and remote control, preferable with manual white balance and exposure functions, with firewire port (also known as DV, I-link)
Pan-tilt is the device that will help moving your camera - up/down/left/right with a remote control (see the images). We recommend Bescor MP-101 or Bescor MP-101b or Bescor MP-360 because is solid and it doesn't break so easy. You could buy Bescor MP-101 from BHphotovideo - make sure you also buy an extension cord for the bescor remote control (RE-20 20' Extension Cord for MP-101 Pan Head Remote Control will do just fine), there are also wireless solutions, keychain remote control, check their website for more info. If you would prefer a cheaper pan-tilt with a wireless remote control, you could try Vidpro Ebra (ex Ebenk Ebra). Other pan tilt devices are available on the market, simply search for "pan tilt device" on popular search engines to see what is available in your area.
Tripod to support your camera and pan-tilt - you can find this item in any local photo store (a regular one cost 30$-50$ at max - you don't need a pro tripod that are very expensive)
Firewire Cable and Firewire capture card if no firewire ports available on PC
Some images with an camcorder with pan-tilt and trepied
You might think is difficult to install a camcorder and all these accessories, actually is not so at all, especially if you will follow our instructions.
Common questions that are asked by models when it comes to camcorder usage:
Q: Why should I use firewire, when I can connect my camcorder using USB?
A: Is true that some camcorders have streaming capabilities like a webcam, and can be connected using usb, but then what's the purpose of buying a camcorder if you're going to use it like a simple webcam? Quality and frame rates are higher when using firewire, extra color settings can be done from a splitter application like Webcamsplitter or Webcamsplitter PRO. *Note: Near the future new models of camcorders, might be able to stream via USB 3.0, where the speeds are much higher in comparison with old USB 2.0 and 1.1, at that point using your new HD camcorder via USB 3.0 might be ok.
Q: A pan-tilt device is really necessary?
A: No is not, but as we said a pan-tilt device will help you a lot in your activity.
Q: I don't like the colors on the camcorder, image is dark; my webcam is doing much better, why is that?
A: Camcorders requires more lighting than a regular webcam, also you have to learn some basic camcorder features like white balance, exposure etc. You'll find the answers, just continue reading this guide.
Q: I'm earning great money using just a webcam, why should I complicate myself with a camcorder?
A: Yes we know, but doing the step further to better quality will help you generate even more money. If you don't want to complicate yourself with an Camcorder or HD Camcorder, atleast buy a top HD Webcam.
Q: How about usage of Sony Evi series? D30, D70, D100?
A: These are 10 years old cameras, are still good, but not good enough for the present, with a HD Webcam like C920 or BCC950, you can get better image and higher resolutions, better colors etc..a new BCC950 costs around 200Euro (and price will decrease in the next months) while a new D100 is over 600Euro (10 years old camera) and a second hand one can be over 400euro, and as we said in this guide, maximum resolution of D100 is 640x480, plus that depending on the tv tuner or capture card you use, cables etc, the image quality can get reduced a lot. The new generation of Evi products is Evi HD1, but this camera costs around 1800Euro (without the hd capture card or tvtuner), you can get much cheaper HD setup with same quality results with an HD camcorder + HD Capture Card + Pan tilt (less than 1000Euro with new products, and less than 500Euro with second hand HD camera + new HD Capture Card and new pan tilt)
Q: How about using my camcorder the old way, with analog tv-tuner or capture card?
A: Is still good but old method, with analog setup you can't have more than 640x480, image quality is decreased, also interlaced (those lines that appear when you move), deinterlacing the image will decrease quality even more, therefore sooner or later it is recmmended to make the step further for higher quality either with a Top HD Webcam, Camcorder connected via Firewire, or HD Camcorder connected to an HD Capture Card.
▲ Top
---
Connecting your OLD CamCorder (hi-8, minidv etc) with capture card or tv tuner
Keep in mind that Firewire connection gets the best quality possible out of your old camcorder, using a tv tuner or capture card will have less quality, also require more technical skills to setup it properly, but use less CPU, because you can capture the image directly from capture card with smaller resolutions like 320x240, 640x480. This method can still be good for models with older computers. Keep in mind that final quality of this connection method is determined also by: quality of camcorder, quality of Svideo or RCA cables (usually Svideo is better), quality of your capture card or tv tuner. Also image is captured INTERLACED, so you will notice horizontal lines on movement, in order to get to fix this you need to DEINTERLACE the image captured by the card, you can do this either with Webcasmplitter or with the Flux Manager software - Soft new, in Settings HD page, Flux Manager, Custom Options, you can find an option to apply Deinterlace to your live feed. Remember that when using Deinterlace filter you loose an extra 10% or so on image quality. If you have a powerful computer, consider using Firewire and apply color corrections from Camera settings and Webcamsplitter color correction settings (or other splitter software).
Check out these images to see how you can connect your camcorder to pc using a tv tuner or capture card
▲ Top
---
USAGE OF HD CAMCORDER + HD CAPTURE CARD + HDMI CABLE
Attention: Using such equipment require medium to advanced technical SKILLS, if you are a beginner and you can't find a person with experience that can help you, it might be better not to complicate yourself, use an HD Webcam or learn/research more before jumping into spending a lot of money with pro equipment, to avoid buying products that are either incompatible or you will not be able to setup properly. These instructions can help to better understand the setup with HD CAMCORDER + HD CAPTURE CARD + HDMI CABLE
For models and studios that wants super sharp image and perfect optical zoom, the next after HD Webcam is the usage of an HD Camcorder connected with an HD capture card via the HDMI cable. Many models and studios might already have HD Camcorders, but they don't use it properly, they get the image analog like for the old camcorders connected via RCA or S-video, so even if they have HD camcorder the image is captured from it at a reduced quality + interlaced (SD - standard definition instead of HD - high definition),so buying more expensive HD camcorder and using it like an old camcorder it doesn't make any sense.
So, the correct way to connect your HD camcorder to your PC is by using an HD Capture Card and HDMI cable, a good HD capture card costs around 100Euros, Avermedia has several good products while a HDMI cable starts from few bucks and it can go over 100euro depending on producer and quality. A good one should costs between 20-30Euro. Before buying an HD Tv tuner and HDMI cable, check your HD camcorder to see what kind of HDMI output it has on it, if it is normal HDMI or mini-hdmi, micro-hdmi - buy your cable according to that.
Things to check when you buy a new HD Camcorder:
Make sure it has a remote control (HD camcorders that have remote control are usually more expensive)
Make sure it has hdmi, mini-hdmi or micro-hdmi output port
Check the settings inside the camera for the hdmi output resolutions, it must support also 720p (720p = 1280x720 resolution), most of the newest camcorders have multiple options for the hdmi output and as we said, if in the options 720p is present than all is good. On older Hd camcorders you might only have 720i or 1080i (i=interlaced), these are not recommended, because you will end up with lines on movement (check on google how interlaced image looks like) - even if you deinterlace the quality gets decreased. 1080p (not 1080i) is also fine, but that means a capturing resolution of 1920x1080, you will need a very powerfull pc to be able to proccess this large resolution (reduce it to 800x600 and change format to 4:3 with a splitter software, add colors to it etc), only this aspect can take up to 50% CPU usage from a powerful processor.
Exposure and Manual White Balance are standard features on all HD Camcorders from popular brands like Sony, Panasonic, Samsung, Canon etc (but you will have to learn to use these settings - read further our guide)
You don't necessary need to go to the shop to check these things, you could simply check the MANUAL of the HD camcorder you plan to buy, you will find there all the details.
You don't need to buy a NEW ONE, which are more expensive, you can look also for a second hand camcorder, as long as is not broken and it does have all above features, will be fine.
▲ Top
---
How to setup your HD CAMCORDER
After you buy the HD Camcorder, put it in HD Mode (not standard mode), go to Hdmi Output settings and make sure that you choose 720p (on some cameras the option is displayed fully like 1280x720, on other models might appear along with other sizes, for example like this: 480p/720p), connect the camera with the HDMI cable on the HDMI port of your HD Capture Card (check on capture card to be sure you connect it to the HDMI, not analog - some capture cards have 2 hdmi ports, one is for Analog RCA or Svideo the other is for HD Hdmi connection). Now we end up in the PC with a resolution of 1280x720 16:9 format, we need to transform this image into a 4:3 one, 640x480 or 800x600 (standard high quality resolutions of major cam sites for the time when this text was written - February 2013). To transform the image, Webcamsplitter or Webcamsplitter Pro can be used, other splitting software might work as well like e2eSoft Vcam, you can test several popular splitter software and see which does the best job for you. It's important that the software to be able to manipulate the video that comes from capture card and to be able to send it further to the cam site to a different size/format, and Webcamsplitter has these options (also e2eSoft Vcam). So you load your HD Capture Card device in the Webcamsplitter, you setup a resolution of 1280x720, after that you right click on Webcamsplitter icon, and press on Options, a window with settings will appear, go to Output resolution and press on Customize button, in the list of resolutions select 640x480 and 800x600, you can deselect the rest of resolutions. These settings means that the Webcamsplitter will take image from capture card at 1280x720 and it will send it further at reduced size and different format at 640x480 or 800x600. Now if the image is distorted on the cam site, from the same Options page of Webcamsplitter you select Crop, and the software will cut the image margins, to transform it from wide to normal 4:3 format, this way your image will no longer be distorted.
▲ Top
---
How to connect your HD CamCorders to your PC via an HD Capture card and HDMI Cable
▲ Top
---
Webcamsplitter settings example for HD Capture card + HD Camcorder
▲ Top
---
Available HD Capture Cards on the market.
If 2 years ago there weren't many options for HD Capture CARDS, in present there are more than 20 well known HD Capture Cards products, both internal and external devices (via USB 3.0). Avermedia has several products like Avermedia DarkCrystal HD Capture PRO PCI-e (don't buy the SDK version because is more expensive and you don't need the SDK, these are for developers), also Avermedia Broadcaster HD and Live Gamer HD will work even if these products oriented for gamers to record their game play, it can be used also to get the video from an HD Camcorder with HDMI connection. BlackMagic design have also good HD Capture Cards but are more expensive, a good product is BlackMagic Intensity Pro. Do your ownresearch first because there are many available products on the market and more will appear in the next months/years, prices will probably get lower as well. Just search for "HD Capture CARD HDMI" on popular search engines to see what products are available in your area.
Other details
For the Pan-tilt and Tripod read the instructions from regular camcorders, the setup is done in the same way. Also Webcamsplitter settings are done similarly, for Source you choose your HD Capture Card, resolution 1280x720 or 1920x1080, Crop enabled because you have to reduce the image to 640x480 or 800x600, Global Resize Quality enabled on QUALITY.
▲ Top
---
About lightning setup
Lightning plays the most important role for optimum video quality. When a camera is focused on subjects poor illuminated, it must compensate for the low light and it will turn the video gain up or will slow the shutter speed. This results in a blurry, not colorful picture also with a noticeable increase of noise. This noise makes compressed jpeg image to have a very poor quality and also it will increase the image file size. Without proper lighting final image will look bad even with an expensive camcorder.
When we talk about lighting we don't refer only to intensity, we have to take in consideration also the color temperature fact. According to WikiPedia "Color temperature is a characteristic of visible light that has important applications in lighting, photography, videography, publishing, and other fields." Also "higher color temperatures (5000 K or more) are "cool" (green-blue) colors, and lower color temperatures (2700-3000 K) "warm" (yellow-red) colors. Cool-colored light is considered better for visual tasks. Warm-colored light is preferred for living spaces because it is considered more flattering to skin tones and clothing"
Learn more about color temperature of the light:


Check out also: Color Temperatures in Video Lighting from ExpertVillage.com
You will find on the web many tutorials about lighting, but most of them refer at professional lights usage. We are aware that many independent models don't want to spend a lot of money for pro lights; therefore we'll try to keep things simple and inexpensive (but still efficient). First of all you need to improve the global lighting of your working space. A normal bulb with 75W to 100W, lighting a room from the middle of your ceiling, might be ok for your eyes, but definitively is not enough for your camcorder or webcamr. Even if you add more normal bulbs things might not get any better. Instead of using many bulbs (for the global light) you could use 1 or 2 with higher intensity. We recommend using fluorescent power saving (economy) lights (bulbs or tubes). Don't buy those halogen reflectors for outside illumination - are not suitable for indoor use.
Here is an example of what kind of fluorescent bulbs we are talking about: 105 Watt Compact Fluorescent Light Bulb
This 105W bulb is 500 Watt Incandescent Equivalent meaning that it has the power of 5 or more regular 75W-100W incandescent bulbs. Depending on your room size you might need 2 bulbs like the one from our example.
Here is a simple lighting setup example for a medium size room (4x3.5 m , 2.5m high):
IMPORTANT NOTE!!! FOR LOGITECH HD WEBCAMS IS BETTER TO USE LIGHT OF SAME COLOR TEMPERATURE, WE NOTICED THAT WHEN COMBINING WHITE WITH YELLOW LIGHTS, THE WHITE BALACE SETTINGS ARE NOT ALWAYS WORKING PROPERLY ON MANUL MODE.
Check also these tutorials about lighting techniques:
Video Production Lighting
The more you learn about lights the easier will be for you to obtain a great video quality. Don't expect to have the perfect lights setup from your first try. Play with the lights in terms of intensity, distance and color temperatures. Adjust the exposure of your camcorder if needed and don't forget to set the manual white balance.
If you don't know how to set the exposure or manual white balance checks out these video tutorials: (locations of these settings will vary depending on camcorder type)
Few more things you should be aware of:
Is better to cover your room windows so that the sunlight to stay out from interfering with your lighting setup.
Make sure no lights are pointed directly to your camera lens
When you play with the lights make sure your tv-tuner color settings are set to default, you should try to get the best image possible only using lights and after that you can adjust more from the tv-tuner settings.
Make sure your monitor brightness and tones are on factory default while you setup the lights and/or software image settings. If you manually reduced the screen brightness for example, you might be wrong with your image adjustments - visually you'll be ok on your screen, but for people that use factory default settings your image might look burned out (too much brightness).
▲ Top
---
About free video chat area activity
Here at Xlovecam we restrict the access on free chat for all non-converting and high-risk countries, therefore Xlovecam free area might not be very populated, but most of the guests accessing your room are top quality traffic from high-converting countries like: France, Belgium, Holland, Germany, England, Italy, Spain, USA, Canada and so on.
Many models believe that interacting with the guests and free registered members is a waste of time, but if you get to think like this is like cutting your source of revenues. Free area is the best place to promote yourself, to let people find out more about you and the things you can do.
On our system we restrict guests free chat session to 1 minute, then are intrerrupted by a registration overlay, so basically what is happening in that minute will determine next actions of a particular guest. Obviously their first impression is crucial - if they get to see a smiley model, being in mood for fun, talking with her visitors, a fast video and good quality image - they have more reasons to register and get back to you. If they see a pair of static boobs for example or a very bored model another example, a slow and blurry video, no activity in text chat, no audio and so on - logically most of them have no reasons to visit again such rooms as they know there are better ones out there. Considering these facts one of your important goals should be - to determine your visitors to come back, to register as members and finally to buy credits. Everything is in your power, improve your services, improve the interactivity in your free chat room and you'll see that more and more people will get back to you and sooner or later they'll go for private show. Ignore these people and most probably they'll ignore you as well.
You might ask something like "Hey, but what can I do in 1 minute to determine a guest to register?". We can tell you that it isn't about what you can do in that minute, is more about your GENERAL ATTITUDE, but there are also some things you could do, like saying hello to your guests and starting a conversation individually or Globally if you have too many guests, "Hello guys welcome in my room" "Are you new here?" "Wanna have fun?"... By doing so you practically request an answer from them, even if they get disconnected after 1 minute, they can come back, either by refreshing the page or by creating a free member account, you give them a reason to hit the back button of their browser or to register as members for unlimited free chat. From time to time you could also type other general audience message to encourage the guests to sign up, here is an example "Hey guys, if you want to chat more with me without interruptions, go and register for FREE, hit that SIGN UP button, I'll be here waiting for you"
Interacting / communicating with all your free chat visitors it has many other advantages as well, we point here a few:
It will improve your typing skills - if you type faster you'll be able to interact with more visitors;
If you use also audio combined with the text chat - not only that you'll improve a particular spoken language but also you'll be able to communicate with even more visitors;
By being sociable you will also catch the attention of existing customers - is a known fact that many big spenders are watching the models (or a particular model, maybe you) before deciding if they should go further or not. Some customers don't even login, they just watch you as visitor, and login after if they like you.
Another known fact is that customers usually spend more money with models that are offering also an interesting conversation (beside the erotic show), so by improving typing and language you are able to communicate better and therefore some customers will spend more time with you in the private show.
Not at the last, by communicating you will learn to be in control of what is happening in your room, you will learn which visitors are more likely to become paying customers, you'll learn to transform your free chat room to a magic ambiance where people are having fun, are spending good time, a special environment where people are forgetting about their daily problems. These people will help you as well to spend beautiful moments while online, will support you when you're having problems with some rude visitors, their positive feedback will bring more customers in your private area.
Other important things that you should know, when talking about free chat activity:
Every piece of thing that could distract your attention while you're ONLINE is your ENEMY, we include here: working on multiple sites in the same time, watching TV (if is on music and you ignore it, no problems), browsing the web (youtube, hi5, facebook etc.. you know what we mean), talking on the phone, chatting on instant messengers and so on. By doing all these things while working on Xlovecam you'll not be able to focus on your main goals.
Try to address to your visitors using their chat names, so a particular visitor will know you talk with him and not with someone else. Instead of "hi bb" is much better to use "Hi VisitorChatName, how are you?" - You've notice that we added a question to the welcoming message, it has the purpose to initiate the conversation.
About usage of "baby" or other similar appellatives, we can't say is wrong using it with first time visitors... but think of this: usually, in the real life, people use "baby" appellative to address to someone very close to them like family, boyfriend/girlfriend, husband/wife...in the virtual world things are different, you could use these terms with regular customers/visitors, but when used with a first time visitor might look a little forced, not natural, fake way to welcome someone... at least this is how it looks from a neutral position so it might be better to use their chat names at the beginning.
Text shortcuts like "ty, thx, bb, gtg, wb, pvt, lol, asl" are cool, again we can't say that usage of shortcuts in free chat is wrong, but it seems that models using more often the full forms of words are attracting more customers in their private show, we are not sure why but is probably because the conversations looks more realistic, it doesn't feel superficial, and is easier for everyone to understand what you want to say. One thing is sure; if you know shortcuts it doesn't mean that everyone will understand what you are saying.
An interesting dialog can't take place if you are only limited to words like: yes, no, ok, thx, mmm, hmm, lol, only in pvt - there is nothing special about it - everyone can do it. Interesting conversations have the role to keep visitors and customers focused to your free chat room; it will create that magical ambiance that we talked about earlier. Of course there are models not mastering a language or another so is harder for them to express their thoughts, if you find yourself in this situation maybe you can see now why is so important to communicate with your visitors. Free chat could be the best TEACHER for you, it has the power to help you improve your vocabulary and knowledgebase; realize it and things will get much better for you.
Keep the eye contact with your camera as often as possible, when you look straight in your camera lens is like to you're looking into visitors/customers eyes, that's attractive and it gives more weight to your words. Of course you might not be able to look into the cam while reading your chat or when you type, but you could look for a few seconds after you hit the keyboard Enter button for example, or while you're teasing the visitors with sensual moves.
TEASING (erotic teasing) is another important action that it keeps visitors in your free room and it might determine more customers to join your private area. Anyhow teasing doesn't mean you have to show your intimate parts (except for our Events, or Bonus etc), the way you tease is completely up to you, as long as you respect Xlovecam rules. As a general reminder, it as allowed to be topless for maximum 3 minutes if you receive a BONUS in free chat, but it's completely your choice if you want to show or not. Only topless is allowed for a BONUS, if you show your genital organs it's against Xlovecam Rules (unless we organize Events were we specify that full nudity is allowed).
Teasing could have a higher efficiency when you wear more clothes, this doesn't mean you should get dressed with 2 pair of blue jeans, 5 shirts and 1 coat, we refer to sexy outfits composed from multiple pieces, sexy costumes etc.. which should be better then a bra and a pair of panties. If you can not afford it yet, just combine what you can find in your wardrobe (skirts, ties, stockings etc).
You might ask what is better for free chat. Should you tease more and chat less, or opposite? Ideal solution would be to do both things equally, at least till the point you'll become more popular, then the teasing factor might be reduced by default, if people see you most of the time in private show, the human curiosity will work in your favor.
You should also know that what is working for a model might be a disaster for another one. That's why is not recommend to copy other models, is more about developing your own style based on WHO YOU ARE - YOUR PERSONALITY, is more about being unique. YES is ok to get inspired by other models, but that's not the same with cloning.
Don't be too pushy in free chat while trying to attract customers in your private show, let it come naturally by the way you communicate and tease, repeating all the time things like "come in pvt", "pvt only" is annoying and it might have an opposite effect. When visitors are asking things that you can't provide in free chat like "show pussy", "show nipple" etc, instead of using the common "I'm not allowed" is probably better to find smart and positive answers like "Hey (visitor name), sure I can show you my pussy, but with my panties ON here in free chat" or "Hey (visitor name), I just show it few minutes ago in a private show, too bad you were not there" or you can even try funny answers like "Show me yours and I'll show you mine" and visitor might say "but I don't have a pussy, I have a big cock waiting for you" - Model: "everyone says that, I have to see it to believe it" - Visitor: "no option for me to send you my cam here" - Model: "Yes, I know, but there is cam2cam option in private chat, come in and lets see what you are talking about". These were just some examples of chat interactivity, which will help your free room to become more attractive, enjoyable to follow the conversations.
Be honest when you talk about the things you can offer in your private show, don't promise something that you can't comply with, tell the truth and try to offer alternatives of what you can do. As for an example, if someone ask you if you use toys in private and you don't have toys (or you are not willing to use them), obviously don't say "yes" but also don't say simply "no" - this will cut off the conversation. Try instead to find alternative answers, that will increase your chances for a private show, something like "I can use my fingers, if you would like that, I didn't bought a toy yet" - 1 or 2 customers out of 10 asking for toys, might still want do see your private show even without a toy, but if you cut off the conversation using "NO", all off them might leave your room.
Pay attention to visitors and customers requests - things like: "do you have red stockings?", "do you have black high heels?", "do you have big yellow earrings?", "do you have pink panties?" etc.. and in the case you don't have these items.. remember to buy them next time you go shopping. Being able to satisfy this type of requests will also increase the overall number of your private shows. Models being serious about this job, always save some money from their commission and use it for new outfits and accessories.
Don't go offline without saying good bye to your visitors and let them know when you're going to come back. Even if you disconnect for few minutes, let them know about it... "Hey guys, I have to disconnect for few minutes, don't go anywhere".
If you are having a bad day, you are extremely bored, not in the mood to interact with your visitors, is better for you to go offline, you don't want to be seen like this. Go outside and take a walk or do anything that makes you feel good, relax yourself... and return online only when you're feeling better.
We know there are visitors out there being rude, saying things that they probably never dare to say in the real life, if you choose to ignore them, that's fine, if you kick them out of your room that's fine again... but is this really all you can do? From our experience many of the rude guys, can be turned into good guys with a little patience and of course good communication. Make a test, from time to time try to give second chances to some rude visitors; you might be surprised how many good things you can learn from this experience. You could even transform it in a small game, every time you kick a visitor - 1 point goes to rude people, (because he succeeded to make you angry) - and every time you get a rude guy to say "Sorry" or to stop talking bad - you should add 1 point to yourself.
Remember that no matter how good you are, is impossible to please everyone, there will always be a conflict or another with some visitors or customers, the important thing is to be in control of yourself, think POSITIVE, get over bad moments as fast as you can, don't let negativity or various frustrations to overcome you. Don't let very rude people to ruin your mood, if there is no other solution, kick them out. If they manage to get you very angry, that's not good - it will be harder for you to concentrate, take a break and chill yourself or talk about it with your fans / virtual friends it should help you to get over it faster.
▲ Top
---
About private area activity
Many of the things we talked about so far will help you attract more customers in your private area, but from this point on... is all about your PERFORMANCE which will determine the average length of your shows and returning customers factor. These two elements are your tools to measure whether you provide a quality performance or not. If you constantly have returning customers spending a decent amount of time in your private show (30 min or more) it means you are on the right path. Obviously if almost all of your customers are spending just few minutes in your private show and never come back, that should trigger an alarm on your side. You have to seriously think about the reasons why is happening like so.
There are many models out there believing that Customer Satisfaction is all about "body game" ... getting naked as fast as possible, executing like a puppet everything is requested - no questions asked - no relevant communication whatsoever. From a customer point of view playing with a naked "puppet" could be entertaining for few minutes... but that's all in most of the cases... next time he will visit another model... simply because playing again with the same "puppet" is boring. "Puppet technique" could ensure a decent living but most of the models doing so will never discover the real benefits of video chat activity.
While you read these lines you might think "But what the hell I can do, if everyone are asking me to get naked fast?". Well, this is an adult cam site, so is normal that majority will ask for an erotic show, but this doesn't mean they are not willing to spice their virtual adventure with a sexy dialog, a fantasy and so on. If you only involve your body in the action and the private dialog looks more like a monolog (because everything you say is mostly: thx, mmm, wow, yes, no), obviously the private show will end pretty soon. The chances to see again that customer in your private show are reduced a lot.
On the other side if you are being too pushy with the chatting, ignoring customers requests - trying to delay the action as much as you can even if you were asked to perform ... than the results will be similar like in the first case - many will leave your private area disappointed, sometimes angry, they might also ask for a refund etc
As a conclusion you should remember that each customer is unique, the more you communicate in free and private chat (when possible) the easier will be for you to understand their needs and probably their personality. Understanding them will help you taking the right decision in various situations as well as it will improve the quality of your shows. Don't think everyone wants a quick "puppet" show because you're wrong. Also don't think you are the smartest model in the world and you can play every customer on your fingers because you're wrong as well.
Providing a great erotic show combined with audio and/or text chat "flavors" as well as being able to entertain the customers with interesting conversations (when possible) are the keys for success.
As we said before, be as natural as possible, be you... don't let others to set your limits, strive to offer your best performance each and every single time, entertain your customers also with your mind and soul not only with the body, have fun, be creative, use your imagination, surprise your customers as often as possible. Don't let them getting bored... and don't allow you to get bored... this activity could be very profitable and enjoyable in the same time... everything is up to you.
What are regular customers?
Xlovecam members returning periodically to the site and spending time in private shows are called - regular customers. There are many on Xlovecam, some of them will visit different models each time they buy credits, some others return for specific models that they like. When you notice a customer visiting your private show several times and different days, he's close to become your regular customer. They are like "gold" for your activity, keep this in mind and treat them as best as you can. Sooner or later a special bound might be created between you and some of these customers, something like a virtual friendship; these bounds could make your online time more enjoyable and profitable in the same time.
Should I use sex toys in my private show?
Well is up to you, using sex toys is a plus and definitely could determine customers to spend more time with you in private show. Remember also that your ATTITUDE and the way you are using the toys are very important. Think twice if you are planning to use toys just to perform a fake show (fake penetration), more then 90% of the customers can see the differences between real and fake, therefore next time they might look for the real thing. There are models not using sex toys and still being able to offer a great erotic show.
▲ Top
---
Appearance in front of your audience
About backgrounds and room decoration
Having an appropriate room design will improve your final image quality, also it should make you feel better while working and not at the last will catch visitors attention. An important thing we recommend when it comes to room decoration and backgrounds - KEEP IT CLEAN and as SIMPLE as possible in terms of details and used colors. A very noisy background with tons of details and colors isn't recommended because in most of the cases will look bad and camera might be forced to focus on your background instead of you. Take your time with this task and do it with style.
Unless you know what you are doing, avoid using big materials reflecting the light. We recommend the usage of soft pastel colors (see examples in the image below).
Most of the models are working from their bedroom (or a working space that look like a bedroom) - try to arrange your working space in a way that should allow you to play in almost any position, without being afraid that some inappropriate things might be seen on camera. For example if you want to dance or strip for your visitors/customers you need to stand up, either on bed or near it, what is behind you in this situation should also be part of your room design. It might be better to use pillows (in various shapes, colors and sizes.) for background, instead of hanging a big textile material on the wall. It is recommended to change the background from time to time, the usage of pillows it will help you do that, even on daily basis if you want - you just change their position or use different pillow covers and voila you have a new, fresh background. Bed sheets, bed linens, pillows and pillow covers are relatively cheap and available in a variety of colors - as we said avoid buying those with a lot of tiny details, simple is better.
Check out few examples with room/bed designs, keep in mind that there are thousands of images on the web with bedroom decorations that you could inspire from.
Source:
My Deco
|
Google Images
Positioning
Positioning in front of your camera is an important detail that could affect your overall sales. A good position will definitely increase your chances for a private show while an inappropriate one obviously will make people think that you are not in a mood for a show, you are bored, superficial etc. so they will think twice before joining your private area. Every time you change your body position check if you are centered on cam, if not, do the necessary corrections (this is why a pan-tilt is a very useful accessory).
See in these examples how proper centering should be vs how it should be not:
You should try changing your body position from time to time, every 15-20 min or so. We know that each model might have a favorite position, that's fine, but don't stay like that for long periods of time, is bad for your health in the long run, you'll get tired sooner, visitors might get bored seeing same thing over and over again. Don't hide your face from camera view for a long time, that's the worse thing you could do. A body without a face has no personality. Emotions are only transmissible trough the FACE; therefore you should try showing your face as much as possible. Of course, if you tease your visitors by showing a close up with your bottom for example, is impossible to show the face in the same time (unless you are a contortionist), but usually free chat teasing should last 1-2 minutes at most and then you get back to your normal position (where face is appearing in camera view). Continuing with this example, if you keep the close up with your bottom in free chat for a long time, that's no teasing anymore, you are probably tired, bored or busy with other things; visitors will notice and definitively this is not good for you. If you are bored, you better take a break and do something that could get you again in the right mood. Keep in mind that you are the most important part of the "equation", not your background, walls or other things, so you should occupy most of the image space. Good positions are offering you an optimal level of comfort and a great view for your visitors.
About sexy outfits
Sexy outfits will have a great contribution in your activity. Wearing sexy outfits will increase your sexuality and are stimulating visitor's imagination and desires. Each model should change their outfit on a daily basis; don't be afraid to use various accessories like earrings, necklaces, belts, hair clips and so on, which should be assorted with your outfit - these have the role to complete your final look.
From time to time, try to experiment also with outfits and colors that you think are not suited for you, each people mind work differently, for example if you don't like an old skirt or maybe a pink outfit it doesn't mean it won't look great on you trough other people eyes.
We understand that some of you might not afford to spend their money on sexy outfits; anyhow this can be done in time by saving a small money amount from your commission. As temporary solution you can try using with creativity clothing items that are currently available in your wardrobe, things like: skirts, dresses, shirts, ties, belts, scarves, stockings, sandals, high heels and so on - combine them with various bras and panties and you should get some nice looking sexy outfits.
Wearing just a bra and panties could be ok from time to time (maybe once a week)... more than that might work against you, because bra and panties are too common; it takes only few seconds to take it off in private show; not so many options when it comes to teasing; even if you change it daily for many visitors (men) is still just a bra and panties if you know what we mean... just to point out some of the reasons why a sexy outfit is better.
There are models asking us if is ok to wear street clothes. We don't see any problem, we are sure some visitors and customers will be happy to see how you look in regular clothes, anyhow remember that this is an adult cams site, once at every 2-3 weeks is fine, more than that is not.
Check out some sexy outfits examples:
Source:
Odgirl
About your Xlovecam bio page
An updated bio page with useful details about you, with fresh images, video teasers and a correct schedule will help you get more customers in your private area. Many visitors/customers are checking your bio page to find more about you; some of the visitors might come directly to your bio page from search engines for example... offering a well maintained bio page is much better then an empty one or with poor content. Don't be superficial, take your time and build a nice bio page, talk about you, your personality, things you like and dislike, your sexual fantasies, talk about what you can can offer in private show, hobbies, favorite music, food, movies and so on.
Be creative and unique, be you, don't copy other models description (remember what we said about cloning) that's simply rude and a very bad practice.
Keep your pictures gallery fresh and glamorous - add new content every few days and remove the pictures that are repeating or are very similar. Most of the pictures (50% or more) should reflect what visitors/customers are going to see in free/private video. If there is a huge difference between your pictures and your live video, people might get disappointed and you don't want that. Quality digital pics are nice but don't build your entire gallery with only digital images. You could also add pictures from your real life, these are also great additions for your Xlovecam gallery and could capture visitors attention (make sure nobody else beside you is appearing in these images).
▲ Top
---
About working schedule
"Many people who work at home do not understand the importance of a schedule. A work at home schedule is basically a way for a person to keep on task and get their work done in a timely and proper manner. Work at home jobs offer a lot of independence and with that come a need for responsibility. To help ensure that a work at home job is successful, a schedule is important." Read full article
Organizing your work is one of the most important aspects of video chat activity. Your online presence is crucial if you are planning to maximize your revenues and then to keep it at the same level. Treat your activity like a real job, create a working schedule and follow it. Generally speaking is recommended to be online at least 6-7 hours a day / 5 days a week, of course you can work more or less depending on your goals or personal situation.
Keep in mind that when we say 6-7 hours a day we talk about the time spent online, there are many models thinking they worked 8 hours for example but actually they were online just 5 hours, the rest of time being spent with breaks, software refreshes and so on.
Don't change your schedule very often, for example if you choose to work from Monday to Saturday in a specific time interval, follow it for at least 2-3 weeks. Generally speaking most of the customers are visiting Xlovecam at similar hours, so if you keep the same schedule for few weeks you have more chances to be noticed. There are visitors/customers that enjoy watching a model in free area, trying to know her better, before deciding to join her private show; this could take up to a week or two in some cases. Obviously if you work chaotic, with many interruptions, changing time frame every few days, your chances to get noticed by customers are decreasing a lot.
When testing a different schedule, to find out if is working for you, don't try it for 1 day and say "That time frame is not good for me" because you're wrong... remember what we just said earlier - (follow it at least for 2-3 weeks) - is impossible to get an objective impression after 1 day test. Virtually any time frame could work for a model because there is traffic on Xlovecam at any moment of the day; being organized is the trick to maximize your revenues no matter what time frame you're choosing.
For models following same schedule for longer periods of time (3 months or more) it could be a good idea to change it for a while (lets say for 1 month or so), there are many visitors/customers that never had the chance to meet you as they go online at different hours. Don't worry about your regular customers during this time, let them know about your change, some of them will follow you, some others will miss you, but when you return to the previous schedule they'll be very happy to have you back.
Work on weekends whenever is possible, Saturday and Sunday are very good days for high revenues. Most of the visitors/customers are spending more time on Xlovecam during the weekends (because free days) so there are more chances for you to be noticed. Not at the last don't forget to update your working schedule option from your Xlovecam bio page, so that visitors/customers to know when they can find you online.
▲ Top
---
Improving communication skills
Is a known fact that without communicating frequently in a foreign language is hard to improve it. Obviously the more you talk in a foreign language (in text chat, audio or both) the easier will be to find your words and to better speak your mind. This is another reason why we advised you to pay more attention to free chat visitors (in terms of conversation).
A dictionary or a translator tool is indispensable for any model in order to improve their vocabulary or to easy remember words, our latest model software Soft New has built in translator that can be very handy during free or private chat conversations. In order for the translator to work in optimal condition make sure you write correct texts and with no shortcuts. Our translator will do a better job when translating between popular languages, for example translations are more accurate from English to French / French to English.
▲ Top
---
Voice and Music - Sound is King
How do people form first impressions that leads to private shows? They come into your chat room because you look good to them and that can include a whole bunch of reasons. First of all, Guests are people too. Accept from the beginning that converting a Guest into a paying customer is a long shot - put it in a realistic perspective, the job will be a lot less stressful and more fun for you. The best you can hope for is a 20% improvement in your Private Conversion Ratio. Your Private Conversion Ratio is the number of Private shows you get / the number of people that enter your chat room. Conversion Ratio is a measurement of your success at making money as a Webcam Model or as a Cam Girl.

Sound is immediately understood but how do you want it understood? Your voice, even if is is accented by your own language's inflections, enunciation, or the sounds of another language - your voice can be made to work to your benefit. Some guys think a foreign accent is sexy and attractive. If people are interested in you they will make an effort to understand what you are saying and pay attention to what you say and that is just what you want - what is the pretty girl saying - if they are interested they will listen. Just by their responses you will know who is a good prospect for a private show and who is wasting your time. Try calling out a Guest number or a Member name who is not chatting: Say, "Hello Guest333 How are you?" or similar - just see if they start talking ... You have shocked them - "who me?" They feel obliged to say something now or just run away - she noticed me! Now, what do I do? XD You might just be surprised, and at any rate, You have taken control and you need that control to create a sales conversion to a private show. Isn't that why you are here to make money?

So, don't be afraid to talk!

Another thing to consider: The use of spoken language improves with practice. Look on speaking in voice as an opportunity to improve your speaking abilities and not as something that is just hard to do - put a positive spin on it :)

Music is another very important aspect to consider, many models ignore this aspect and they usually listen songs that they like, without thinking a bit also to what their visitors would like to hear. Just as tip, think what customers who are likely to have money to spend with a cam girl like in musical interest. Then choose your music according to what majority of those visitors would like to hear.
Combine old songs with new ones to target a larger audience... You can also ask your visitors what music they would like to listen to in your chat room. Another example: You can reward a visitor that gave you a bonus (tip) with a teaser plus ask him for a good song that he likes (and others might like).
See yourself as a singer on a stage, you have to "sing" for your audience, not for you because if you put only music that you like, there are less chances to attract members on the site into your private show.

Learn to search on internet for popular songs; romantic, dance, classic, striptease, or other music starting from 1950 to present. Then make your own play-lists. (Google and Youtube play-lists are a good place to start). You could also search for online radio stations for various music types. This may be an even better idea because people behind radio stations know well what their audience is looking for. So, don't be afraid to try also some other type of music, not just the music you like! Play music for your listener. If you make them happy they will reward you for that.

From the technical aspect, make sure your microphone is close and pointed to you, not toward your speakers, some microphones have various settings in their software - sound mixers settings as opposed to the master system (see if you have these options, this way your voice will sound louder than music, you could also lower the volume of music, to be sure you are heard properly. For hd webcams with integrated microphone you don't have to worry about, the mic is good quality and are designed to put accent on your voice. For models and studios using camcorders or webcams without microphone, just make sure you buy a quality one, over 30$ or so.

To test the power of sound on yourself, in case you are not convinced by our words, try this: first, watch your TV with the sound off, after that listen to your TV without looking to it. This way you can prove to yourself in just seconds that when it comes to information, emotions, and causing action, sound beats pictures (ears beats the eyes).
▲ Top
---
Common Tehnical aspects of video chat activity
Computer and internet related problems
Technical problems are the ones that can affect any model activity and if the model doesn't realize fast that she has issue with her computer, internet, camera etc, her sales will drop down dramatically. No matter how good you look, no matter how much you work, if you have technical problems and your live cam is moving slow or is very bad quality, most of the customers will AVOID your PRIVATE SHOW ROOM.
It is very important for any model to learn some basic things about how to check their computer, internet, webcam etc.. to make sure everything is fine.
Keep your computer hardware components SAFE from Voltage Spikes (electric line fault) or Electric Line interruptions
Protect your Computer from Voltage Spikes on the electric line. These are common all over the world and in time can and will damage various hardware components of your computer: mother-board, hard drives, video card etc.
Extension block (extension outlet, power strip) with built in Surge Protection have decent prices and can be found in any electric store. Keep in mind to buy quality product and make sure it has built in protection. Make sure you connect all the cables that are related to the Computer to the Extension Block with Surge Protection. Also if you have Monitor + TV attached to your PC, make sure you also plug the TV in the Extension Block as the Voltage Spike can hit your TV and than your Video Card. For even more protection you can attach the Extension Block to an UPS (Uninterruptible power supply), so you will have double protection and also you will have 5-10 minutes to shutdown your computer properly in case of electric failures (power line interruption)
Restart or Shut-down your computer properly
Don't Restart or Shut-Down your computer directly from it's CASE buttons, unless the computer is totally frozen. Many will push the physical buttons on the computer case because is faster, but these habits can and will harm your Operating System in time (it can even affect hardware components - Hard Drives for example). Close all your applications first, after that restart or shut-down computer from Windows OS options, even if it this action takes longer.
DUST can be one of the biggest enemy of your Desktop PC or Laptop. Learn to diagnose your computer in order to ensure that is working at optimal performance.
A common problem with any computer and especially with laptops is the ventilation, if the CPU and other components are not cooled properly, your computer will not perform properly. It can happen with any computer no matter how powerful it is. In a few months of running daily, dust will accumulate everywhere, while desktop computers can resist more before requiring cleaning and oiling the coolers, the laptops are usually getting full of dust very fast.. in few months, and after 1 year in many cases the ventilation holes inside the laptop are fully covered with a thick coat of DUST, meaning that your computer will OVERHEAT, the cpu temperatures go very high, your laptop will be very warm, resulting in a very poor performance. You need to CLEAN your desktop PC at least once per year and your laptop at least once at every 6 months. For the laptop, don't keep it on soft surfaces, to ensure that ventilation holes are not covered (don't put it directly on bed), buy an extra cooler for your laptop, there are cooling pads that connect to laptop usb, and it can reduce laptop heat - but even with these cooling pads you still have to remove dust from ventilation once at 6 months. Laptops were designed for Mobility, with a average usage of 2-3 hours per day, it can probably stand 2-3 years before requiring cleaning, but in Video Chat as the laptop is used like a desktop pc, more than 8 hours per day, and in many cases the laptop is rarely shut down etc.. the dust will accumulate much faster.
Ideal for this job is to use a desktop pc as primary because is easier to be cleaned, is easier to be fixed, can run more time before it needs cleaning and is much cheaper in comparison with a laptop with same power. Laptop can be used as secondary device, when needed, for example when you want to broadcast from some other room, location etc..
How to check CPU temperatures and CPU load?
To check the CPU load at any time, simply press CTRL + ALT + DEL on your keyboard, the Task Manager window will appear and you can see the CPU load. Check it often especially when you work. If you see that CPU load is over 90%, is not a good sign, and you need to determine why it goes that high.
Next step is to check CPU temperatures (and other pc components temperatures: Motherboard, GPU, HDD etc) - if the mother board don't come with a software to check CPU and Mother-board temperature, you can use SPEEDFAN or SPECCY, both are free software, to check out these info. SpeedFan also shows the CPU load, you can keep it on the screen to constantly monitor CPU load and Temperatures. As a general rule, a proper cooled computer, when no application is running it shouldn't go over 35-40 Celsius degree, also when you work, CPU being used by cam sites applications plus splitters plus other things you might have opened, if the CPU temperature goes over 60 Celsius degree, these are signs that cooling is not optimal, and if the temperature goes over or close to 80 Celsius degree, you are in serious trouble, the CPU will not perform properly at these high temperature and you need to fix your ventilation (clean dust, clean cooler, replace cooler if needed, replace thermal paste etc). As temporary solution, you can open one side of the computer case, to allow more air to flow inside, also you can place a regular ventilator to send more air in the opened pc case, these improvisations will reduce heat, but still you need to clean it as soon as possible.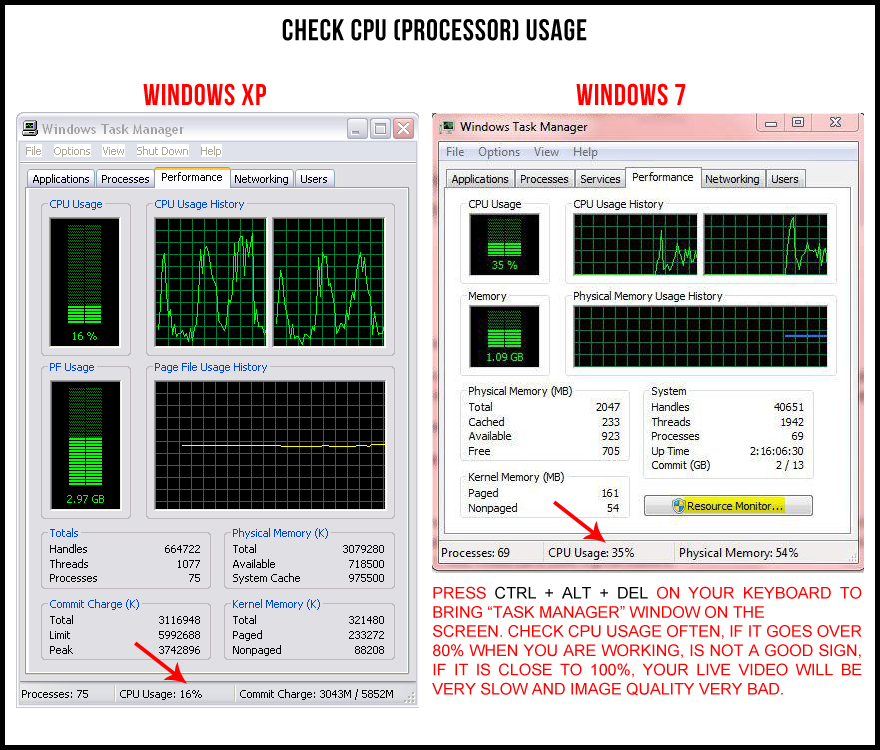 How to keep your computer clean and safe from problems?
Another common problem that can affect PC performance and stability, is that the Windows OS will get full of junk applications or temporary files, lots of fragmented files if is not cleaned periodically. These things can cause operating system to run very slow in time. Learn to clean your Windows OS, periodically, especially that there are free software that can do the cleaning automatically in just few seconds.

Use Ccleaner free software to clean your temporary files and other junk files, once at every 2-3 days
You can also use Ccleaner to uninstall any program that you don't use anymore and to disable the startup programs that you don't need to run automatically when windows is starting.
Use Defraggler for defragmentation of your hard disk once a month
Use a good Antivirus software to make sure you are protected from viruses and other malware, AVG free edition or Avast free version are good choices. There are many other good antiviruses software, but try to research a bit if you choose something else, some will take too much resources and it can also affect your internet bandwidth speed. If your antivirus use a lot of PC resources you won't be able to work in optimal conditions, there won't be enough resources left for Xlovecam software.
Even the best Antivirus can't protect you from various dangerous things, unknown viruses, or malware that aren't viruses, but it still can cause lot of damage on your computer performance or functionality, therefore is important to avoid visiting potential dangerous websites. Also don't press on email or messenger links that looks spammy, even if it those links are sent by people you know. To investigate if a link or file is potentially dangerous, use websites like VIRUSTOTAL (https://www.virustotal.com/) to analyze a file or to scan a url before opening it. Also AVG anti-virus (and other antivirus software) have a component that will scan search engine results and will warn if you try to access a dangerous website.
To scan your computer for adware, keyloggers and other types of malware, things that an antivirus alone might not detect, use MalwareBytes free edition (consider buying the pro edition if you like it)
Keep your browser as clean as possible from Toolbars, some will cause problems on browser functionality, disable and unninstall any toolbar or plugin that you don't need. If you don't know how, simply search on google and youtube, there are many text or video tutorials that will show you the steps to follow.
Make sure your FLASH PLAYER is always up to date, not updating the flash player can cause problems while broadcasting.
Learn to restore your PC to an earlier date when it was ok, as a fast solution to various problems (System Restore). You can find tutorials on google and youtube on how to use the restore feature that is present in all Windows OS starting with XP.
Don't reinstall your Windows OS at each small problem you have, because that problem can come back and you loose a lot of time reinstalling Windows, normally if an operating system is clean and optimized properly it can hold YEARS before needing a re-installation. Reinstalling windows should be last solution in case other things like restore, cleaning etc.. failed.
Don't install junk software that you don't really need, especially things that can make your computer and browser run slower, like browser toolbars for example. Keep your browser clean, the more plugins/toolbars you install, the higher are the chances to have problems with it.
Keep your Windows operating system UP TO DATE, install their important updates as soon as possible. Take a look also to optional updates as may contain important driver updates.
Check for hardware drivers updates at least once at 2 months, especially drivers for your video card, mainboard, webcam etc
Uninstall all programs that you don't use anymore. Don't uninstall any windows component, if you are uncertain about a software or another, search on google about it, to see what is used for. Some third party applications are used by the cam sites model software, like .Net Framework, Visual Studio etc.. don't uninstall these. Clean Registry with Ccleaner after you uninstall the programs that you don't need anymore.
Ensure that your internet speed and stability doesn't affect your job
As primary advice, as we know in many countries, especially in Europe, high internet speeds are available at affordable prices and as for many video chat models, video chat activity is their main occupation, is important not to loose any working day because of the internet connection. Every model that respect her job should have 2 internet lines (where is possible), one primary and one to be used in the case the primary line is down, this way you avoid loosing time and money because of your internet provider. In several countries across Europe, you can get more than 5mbs upload bandwidth with less than 20Euro per month. A medium model can generate in average more than 50Euro daily, only 2 days per month if you loose because of internet problems, you loose 100euro, while second internet line for backup won't cost more than 20Euro in most countries. In areas where there are no cheap solutions, is understandable, but on areas where there are lots of options, many different providers etc.. is definitely recommended to have a second internet provider as well, as backup.
How to check your internet speed in relation with Xlovecam (or any other website)
It is very important to know that if your Internet Provider promise you for example a speed of 10mbs download/upload, it doesn't mean you will have that speed all over the world, you need to learn to check your internet speed directly on cam sites servers, or a near by locations if the cam site doesn't provide tools to test your bandwidth. This way you will have a clear idea on the optimal settings that you can use to stream in High Quality. For our case - Xlovecam - you can use our Network Tools and also third-party speed test tool like SpeedTest.net, to have a better idea. When testing for Xlovecam with SpeedTest.net use Amsterdam servers (there are 2 or 3 available). Beside the internet speed is also important to determine at anytime if your internet connection is stable with a particular server (host, website, camsite etc) - to make sure there aren't losses on the way, because these data losses can easily affect your video stream (your live cam can freeze, delays will occur etc). These losses are easy to determine using Ping command, we offer a ping utility in our Network Tools page, also you can run ping command directly from your Windows OS. For example in Windows XP press Start >> Run >> Type in the text field >> CMD >> Click OK >> CMD window will open and type in there: ping -n 50 xlovecam.com >> press Enter >> After 50 pings the test will show you how many % pockets were lost on the way, if you have more than 10% losses, there can be problems with the connection, these problems can be either from your side, Xlovecam side or a server on the way.
Similar procedure is also on Windows 7 - press the Start button, type cmd in the search form, click on cmd.exe, from here follow the same steps as in XP case.
Now if you see there are ping losses, you have to find out which server (computer) on the way is causing these losses. For this particular test you can use WinMTR, simply download&install and type the address of the website you want to test and click start, wait for the tool to send 50-100 pings and check on which server there are losses. If the losses starts from your ip or your router ip, there are problems on your side (either internet provider or your router has problems). If the losses are on the way, somewhere in the middle, there is nothing you or we can do, just to wait because it will usually get fixed fast, your provider see these problems and they will fix... if the problem persist for days, you will need to contact your provider.. and even change the provider if no other option. Finally if you see the losses on our side, last ip in the winmtr list (or last hostname), it means that either we have temporary closed the PING for security reasons, or there are some temporary problems on our side. To make sure, go and ask the support team if things are fine on our side. Just keep in mind that when we have problems, it is fixed very fast, few minutes, max 1 hours usually, so if you see that the problem persist too much (days), you can be 100% sure that the problem isn't from our side.
▲ Top
---
Solutions to various tehnical problems that you notice when you go online
Problem: Your CPU load when you go online is 100% and you have an older PC (single core)
Solution: Check your streaming settings, older computers can't handle High Quality streaming settings, so you most probably have to use BASIC software, smaller resolutions, slower frame rate. If it can't handle even smaller resolution you have to diagnose your PC as we advice in this guide and you need to consider buying a powerful computer as soon as possible.
Problem: You have a powerful computer or laptop that used to be OK, but after a while it started to perform slow, CPU load is high when you are online, everything is loading much slower than before.
Solution: Use SpeedFan software first to check if temperatures and load of CPU are at good levels when you are online. High Temperatures like more than 70C are a good indicator that your computer is either full of DUST or the ventilation system (coolers) has problems and it's time to clean it. High temperatures affect PERFORMANCE of your computer CPU, the higher temperatures are the slower your CPU will be.
If everything looks good with the temperatures (max 50-60C) even in 100% CPU load, than you might want to check if there are any software that drain the CPU resources, like an Antivirus that is performing an intensive scanning of your system in the background. Temporary stopping the scanning process will decrease the cpu load. You restart the scanning procedure after you go offline.
A faulty or full with junk files HARD DISK can also cause your computer to run very slow, because your PC will read slower the data from such HDD. Check your main system partition to have enough free space, you should let a minimum of 10GB free space on your system partition. Clean everything that you don't need, run Ccleaner first to clean all junk files, run Defraggler after (or windows hdd defragment utility) to analyze the fragmentation levels of partitions, perform defragmentation on all partitions if necessary. Check your hard disk for errors with windows built in utility or other tools. If you don't know how to perform these things, search on YOUTUBE, there are thousands of "how to" video tutorials for each Windows OS.
Any type of Malware like: Virus, Adware, Spyware etc can make your computer to run slow, if you don't have an anti-virus software, install one right away (like AVG or AVAST free versions) and run a complete scan, also keep in mind that an antivirus might not detect Adware or Spyware programs so you need also a program that will detect these, check www.malwarebytes.org - download the free version and scan your system also for these types of malware. You can also try to restore your computer to an earlier time when things were fine, or to reinstall your OS, but keep in mind that if there are DUST problems or HARDWARE problems, these solutions won't fix it.
If all these technical aspects are too much for you is maybe better to call a specialist to analyze your computer.
Problem: All is working fine online, suddenly your browser is getting slow, your webcam is moving slower, you have problems typing, delay etc
Solution: If you are using Soft New and you have many visitors in your chat room, over 50 visitors, use the HIDE VISITORS button, if the things won't get better, restart your browser and connect back online, if things are still slow check your internet connection... (for full details on how to check your internet connection - see here) and check out if there are any losses on ping "Request time out". If you don't know how to "ping" an website, check on youtube, there are many video tutorials. We provide also Ping and Tracert tools in Network Check page. You can also use WinMtr free windows utility to check where are the losses in case you get more than 5% requests time outs on the ping tests. Same testing procedure is valid also for old Xlovecam Software.
If you are behind a local router, reset it, just in case, to be sure your local router isn't the source of problem. If ping tests are getting better after router was restarted, you might have problems with it. Flash player related issues can also freeze your browser and/or our software, check next point to learn how to fix flash player related problems.
Problem: Flash Player related problems (flash player will crush, you can't access flash player settings, browser freezes each time you access a page that has flash on it etc)
Solution: It is known that sometimes Adobe Flash Player can cause problems, even if you have the latest version installed. However you should always update the flash player to it's latest version, and if you have problems with it, you can first try to reinstall, if that doesn't solve the problem, you can completely uninstall it using Adobe uninstall utility and tutorial from here: http://helpx.adobe.com/flash-player/kb/uninstall-flash-player-windows.html and reinstall again latest version using your Internet Explorer browser and than the other favorite browsers that you use (Firefox, Chrome, etc). If there are still problems, uninstall flash player again and try to install an older version that you know it worked fine. You can find older versions of flash player in this page: http://helpx.adobe.com/flash-player/kb/archived-flash-player-versions.html
▲ Top
---
Solutions to various situations when using our software (Flux Manager, H264, Basic)
Problem: Flux Manager software won't install
Solution: These are rare situations and on Windows XP can be caused by .Net Framework not being installed on your PC, install .Net Framework 2.0 and 3.5 and reinstall our Flux Manager software. On Windows 7 (or Vista), if you encounter problems with installation - it doesn't successfully complete for example - run the installer in compatibility mode with Windows XP Service Pack 3 and select "Run this program as an administrator". To find the Compatibility options just Right Click on the Flux Manager installer >> Click on Properties >> select Compatibility tab in the Properties window
Problem: My webcam (video device) doesn't appear or the software show another device
Solution: Make sure first that your Webcam is not used by another device, splitter for example, webcam software etc. Disconnect Xlovecam software and if you work with Flux Manager double check in the Settings HD if you properly selected the video device, connect back and check also if in the flash player settings the proper webcam device (splitter etc) is selected. Click on "Webcam preview" button (available only in Soft New) to check if everything is fine also for customers.
If you are using the old software (Soft), you have to check if the Flux Manager has the proper video device selected. Go to Program Files >> Xlovecam Flux Manager folder >> Run "Webcam Selector" and choose proper video device.
Problem: Flux Manager worked fine, after I disconnected and tried to go back online, I get error
Solution: Run Task Manager (CTRL + ALT + DEL), in the Processes list find Fmlecmd.exe, select it and press End Process, close and open again your browser, go online. Same procedure apply also for the cases when Flux Manager get blocked to some step (usually step 7) while going online. If the Fmlecmd.exe process is not in the list, close the browser, restart Xlovecam service, open browser, connect back.
Problem: In Settings HD page, Flux Manager is not detected, it is installed in your PC, but Settings HD page will ask to Download again
Solution: Restart Flux Manager service from your local PC (Program Files >> Xlovecam Flux Manager >> Restart Service), Refresh Settings HD page in your browser, Flux Manager should be detect fine now.
Problem: My camera looks very good locally but in "Webcam Preview" the video is very bad (moving slow, pixelated etc)
Solution: First check this guide related to CPU load, if your CPU usage is not very high (90-100%), than check your Streaming settings, if you work in 320x240 than is normal to see a degradation of image as on the website the default video size is close to 640x480. If you want better quality, increase resolution to 640x480 (in our software but also in splitter software if you use one) and adjust streaming settings - allocate more bandwidth. Soft New + Flux Manager comes with many custom settings, you could test and see which are better for you. If you are using a splitter software, test also without the splitter, to be sure your splitter (or some bad settings in the splitter) doesn't cause the degradation in quality.
Problem: Audio doesn't work
Solution: Check your local audio settings first, to make sure the Microphone you try to use is detected&working properly and also to make sure the Microphone isn't disabled or it has the volume level set to 0. Some Microphones comes with ON/OFF button, check this as well maybe you switch it OFF by mistake. You should check both Windows OS recording device settings and also Sound Card Software settings, keep in mind that ussually the sound card software can overwrite the Windows OS settings, so is ok to use only the Sound Card Software, but for example, if you are using an USB Microphone or Logitech HD Webcam integrated Microphone, your Sound Card Software most probably won't detect it, so the only way to check the settings is to use Windows OS Recording Device settings (search on youtube for tutorials, if you don't know how to access recording devices settings). Also When online on old Soft (both Basic and Flux Manager) also Soft New - Basic and H264, check flash settings, Microphone tab and make sure your default audio device is selected. You can also adjust audio level either from our software or flash settings. When you are online using Flux Manager from Soft New, the audio is captured by the Flash Media Encoder, adjusting the volume from flash settings in this case it won't have any effect. You can select proper audio device before going online from Settings HD page, as for your microphone level can be easily adjusted from Windows OS Recording devices settings, Microphone Properties, level (if you don't know to find these options check on youtube there are many video tutorials).
Problem: Flash player started to crush after several hours working, I can't connect back because of this issue.
Solution: Restarting you computer should fix this, however to not encounter again this problem too soon, we recommend to you use different browsers for the other things you do beside Xlovecam... for example, if you are working on another cam site with browser software, use Xlovecam in Firefox for example and the other site in Chrome, IE etc.. (or vice-versa). Same procedure apply for any other website that use flash player - like youtube for example, open these websites in different browser.
If this doesn't solve your problem, try to uninstall and reinstall flash player.
▲ Top
---
Various aspects to keep in mind related to Splitter applications
As we previously said in this guide, there are several popular splitter software out there, even if you only work on Xlovecam, there can be cases when using a splitter might be better than using the video device directly (it might help you save the day, improve quality, further adjust colors etc), but also is important to know few things about using a splitter software.
If you have an older PC (single core) it is better not to use a splitter software in order to reduce CPU load and to be able to work with higher quality. If using a splitter software is a must, use one that doesn't takes too many CPU resources, like Webcamsplitter, also don't keep Webcamsplitter OutPut settings opened as it will use extra CPU, also color correction feature will use extra CPU etc.
Many models are tempted to extra adjust the colors from the splitter software, normally if you have good lights and a good webcam (or other video device) you can do all required settings directly from the webcam driver software (or capture card driver settings). Keep in mind that adjusting colors from splitter will increase CPU load, the splitter will use more CPU. Also the higher the resolution and fps is, the more CPU is used by the splitter software. As long as you have a powerfull PC, you can ignore these aspects, but don't ignore it if you have a single or dual core CPU and you want to work in Higher Quality.
Make sure you have same resolution in the splitter and video device driver. For some video devices, like camcorders connected via capture card, there are extra settings in the capture card driver to select the capture card resolution. Because it happends often that models forget about these, they only set the splitter to a higher resolution, but if the capture card deliver smaller resolution, the quality of your image in the splitter or online will look bad.
If you have a powerful PC, but not so fast internet connection, capturing the webcam with the splitter in a higher resolution lets say 800x600, but broadcasting in 640x480 15fps 1000kbs will result in a better quality online. Doing this in reverse for ex.. capturing the webcam with the splitter in 320x240 and broadcasting in 640x480 etc.. it will result in poor image quality online. Attention: Not all splitter software are able to handle different input/output resolutions.
It's in your interest to test several of popular splitter software to see which is best for you in terms of quality and resources usage. On our latest tests - Webcamsplitter had best rankings, as it is light, easy to use, flexible in handling resolutions etc.. it shows the frame rates delivered by the webcam or video device etc
Splicamera is good but known to use a lot of CPU resources especially if you add extra color corrections, use high resolutions, apply various effects, if you keep it on screen vs keep it minimized etc
Manycam was reported by several users (you can check on the internet) that is adding some noise to the image on higher resolutions, also was reported to cause delays and degradation of quality after some time being online with it. However if these were bugs, it might have been fixed, but is up to you to check out these aspects.
SuperWebcam project was closed for over 2 years, not being updated to the latest technologies, it can cause problem, so if you are using this software, consider finding an alternative as soon as possible
DvDriver can be also a very good splitter, however is rarely updated (last update was in 2010), and it is a known issue that the software output resolutions are not always detected properly, for example you get the image from webcam (or other video device) in 640x480, you also select the output resolution to 640x480, but DvDriver resolution will be detected as 320x240, croping a part of the 640x480 resolution...Anyway if you plan to test this software you can use the trial version to check first if everything is fine with it before buying
E2eSoft Vcam it has all required features to be used in video chat industry, it allows also transformation of different format (16:9 to 4:3 for example), custom resolutions and several other advanced options that can be useful in some situations. It has a trial version so you can download and test, before buying. Some options can be a bit tricky, but if you play more with the software, you'll figure it out.
Other known splitters: Xsplit, CamSplitter, CamZoomer, WebcamMax, YouCam, Magic Camera etc
Keep in mind, installing many splitters software&drivers might cause system stability problems and blue screens in some situations, as many of these software share important windows system files.. so conflicts can occur. If you start having such problems, uninstall the splitter programs that you don't use.
▲ Top
---
Webcam related issues
Problem: Webcam is moving very slow both locally and online
Solution: If you have a very old webcam, consider buying one that we recommended in this guide. If you have a new one, consider adding more lights (check the instructions in this guide related to the optimal light settings), check the webcam settings, high Exposure and Gain levels will cause decrease in FPS (frames per second). Disconnect webcam from usb port, wait 10 seconds, put it back (try also different usb port). If you have many usb devices, try to let the webcam alone and after that connect each usb device one by one and constantly check the fps of webcam (using Webcamsplitter software).. in order to test if any usb device is affecting the webcam. If you are using an usb splitter (hub) it can also affect webcam stability, so try to connect the webcam directly into an free usb port and use the hub for other devices.
Problem: Webcam is moving slow in the software but online in Webcam Preview all looks good
Solution: This is normal if you use Flux Manager connected directly to your Webcam/Video Device, this was done in purpose by us to reduce the load on your side, because the webcam is already in use by the Flux Manager, so we show your image in the software directly from our servers but at a reduced fps to SAVE PC resources on your side, because the alternative was to not show the video at all in model software. What's more important is that visitors to see you properly and you can check this by using Webcam Preview feature. We know there are models being stressed that they don't see themselves in real time, but if your computer is powerful enough you can use a quality splitter software and in this case the video will look OK also locally. Webcamsplitter is a good choice for the time being.
Problem: Webcam is not detected by the software
Solution: First make sure that is not used by another application (messenger, splitter, webcam software etc), if you are sure about this procceed to next step. Unplug your webcam from usb port, connect it back after 10 seconds. You can also try a different USB port. Check if your PC detects properly. If still doesn't work, Uninstall&Install again latest webcam drivers; if that doesn't solve the problem try to see if your webcam is ok in a splitter software and connect to the website using the splitter as video device. If you have codec packs installed in your PC, in some cases it can affect the webcam, consider uninstalling any codec packs and try again. You can ask also assistance from us via Teamviewer, we will try to help as soon as possible, to give you a confirmation if your webcam is broken or not.
▲ Top
---
Some words about Live Support and Teamviewer Support
When in comes to technical problems, in most of the cases, Xlovecam Live Support won't be able to offer you any extra info beside what is already in this Guide. Most of the more difficult problems can't be solved without proper investigation and we can only do that if we access your computer via Teamviewer. This way we also save a lot of time on both sides.
If the Guide didn't helped you to find a solution to your particular problem, it is better to send us an email where you should describe your issue as best as you can. Also provide details about your computer, webcam (video device), internet connection, splitter software if you use one, which Xlovecam software you use etc... and specify in the email if you are willing to let us accessing your PC via Teamviwer. Also provide instant messenger contact details (yahoo, msn, icq etc), we will ask a technician to contact you as soon as possible. To get fast information about your computer, you can use Speccy free software to generate a "snapshot" of your system and send that url to us by email. Install Speccy, open the program, wait few seconds to get all the info about your system, from the top menu, click on File >> Publish Snaphot. The software will provide you with an URL (link), copy that URL and send it to us in email.
Teamviewer can be downloaded from here, make sure you select Free version (for personal use) during installation, in the rest you can leave the default values. Teamviewer will generate a new password each time it is opened, so with default settings no one can access your PC, if you don't provide the new generated password each time. Also you can uninstall the program after we solve your problem, and install each time is needed (is up to you).
For studios and models with better technical skills, you can also attach in the email the logs that are generated by our Flux Manager software, there are 2 types of logs: Installation logs can be found in the folder where Xlovecam Flux Manager was installed, usually (C:\Program Files\Xlovecam\) and FMLECMD logs that are located in the \Windows\Temp folder and XLoveFMEService.log in C:\ for Windows XP as for Windows Vista, 7, 8 click Start button, in the search form type %Temp% and hit Enter, the Temp folder will open, search for "fmlecmd"" files, copy all, zip these files and attach the zip archive in your email.
Click here for Live Support
▲ Top
---
The importance of feedback and relation with Xlovecam Team
Many models have the wrong belief that the cam site doesn't care too much about their opinions. Some other models/studios are simply afraid or shy to send the feedback. We don't know about other cam sites, but here on Xlovecam we strive as much as we can to review and take in consideration each of your opinion, ideas, criticism. Also it doesn't matter if your feedback is negative or positive, both can be helpful for us, however keep in mind that is impossible to satisfy everyone, for sure a feature or another will be welcomed by some and disliked by others, is normal. What is more important to know, is that we work everyday to improve Xlovecam system, so your feedback has a good chance to make a difference, if not immediate for sure in the future.
Next time when you have something on your mind, don't hesitate and share your thoughts with us. Use email when you have many ideas, because is easier for us to handle and keep tracking/history of all feedback that is received.
▲ Top
---
Legend of Software tools or online utilities that can make your life easier (some were mentioned already in this guide)
▲ Top
---
Other Xlovecam informational documents to read
---
© Xlovecam - Designed & Powered by
2006 -